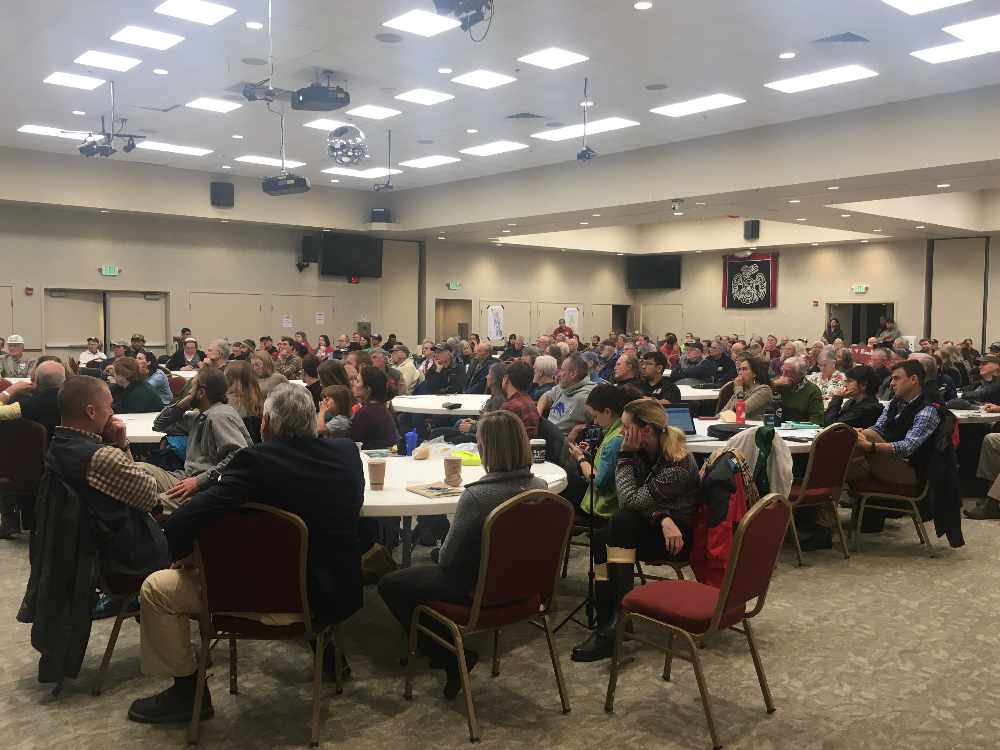 A full house at Elisabeth Peratrovich Hall to hear about the governments plans for the Tongass. Photo credit to Charles Murphy.
Juneau, Alaska (KINY) - A proposal to exempt Alaska from the 2001 Roadless Rule in the Tongass National Forest drew a crowd of people to Elisabeth Peratrovich Hall.
The US Forest Service is seeking comment on a draft environmental impact statement offering a range of alternatives to roadless management and the proposed Alaska Roadless Rule.
Earl Stewart, Forest Supervisor on the Tongass, said the main focus of the meeting was for questions and answers and not verbal public comment.
Chris French, Deputy Director for the USDA in Washington, DC went into the history of the rule. He said the removal of barriers to economic development for mining, timber and hydro were part of the state's request.
Ken Tu, Team Leader for the Alaska Roadless Rulemaking said currently 55% of the Tongass Forest is in roadless areas. About 80% of Southeast Alaska is located in the Tongass.
The rule prohibits tree harvest and road construction/reconstruction within roadless areas.
Concerns raised by the crowd included impacts on climate change, environmental concerns, impacts on fishing, the issue of invasive species and a lack of a chance to provide verbal comments at the hearing. A brief showing of support in the crowd for the no-action alternative was advocated by environmental activists as many people stood and voiced support.
The Forest Service said they intentionally ask for written comments because they become part of the record and fewer mistakes are made in the interpretation. Tu said over 90 percent of the comments so far were in favor of the no-action alternative.
The 2016 Tongass Forest plan greatly limited the areas where timber operations would be allowed. There is also an annual limit on the amount of timber that can be harvested. Critics said the Forest Plan could be changed in the future.
Six alternatives are being considered. One would take no action and leave all of Alaska under the Roadless Rule. Another option provides regulatory protection for 89 percent of key watersheds inside roadless areas and converts 18,000 old-growth acres and 10,000 young-growth acres to suitable timberlands. A third alternative would provide regulatory protections in all key watersheds inside and outside roadless areas and creates a community priority roadless designation that allows for recreational development and timber sales under 1 million board feet. It would convert 76,000 old-growth acres and 14,000 young-growth acres to suitable timberlands.
Tu maintained the third alternative was tailored toward Juneau due to support from the CBJ, and Tribal organizations. This would allow small scale timber operations.
Comments can be submitted in writing until December 17 at midnight.
A fourth alternative would restrict harvest and road-building activity in scenic view areas and 88 percent of watersheds inside roadless areas. It would convert 158,000 old-growth acres and 15,000 young-growth acres to suitable timberlands.
Alternative five would remove 2.3 million acres from the roadless rule, protect 59 percent of key watersheds and converts 165,000 old-growth acres and 17,000 young-growth acres to suitable timberland.
The sixth alternative would exempt the Tongass National Forest from the rule and be fully responsive to the State of Alaska's petition. This would remove all 9.2 million acres of roadless acres and converts 165,000 old-growth acres and 20,000 young-growth acres to suitable timberlands.
The environmental analysis found neutral, no effect, and minimal and moderate adverse effects to forest products, the visitor industry, the fisheries industry, and habitats, by any of the six alternatives.
There are several ways to provide written comments for the proposal.
The website is www.fs.usda.gov/project/?project=54511. Emails can be sent to akroadlessrule@fs.fed.us
You can mail comments to USDA Forest Service, Attn: Alaska Roadless Rule, P.O. Box 21628, Juneau, Alaska, 99802.
You can fax comments to 907-586-7852. You can also hand deliver comments to the Forest Service, 709 W. 9th Street, Room 535B, Juneau, Alaska 99801.
The Secretary of Agriculture is expected to make a final decision by June 2020.