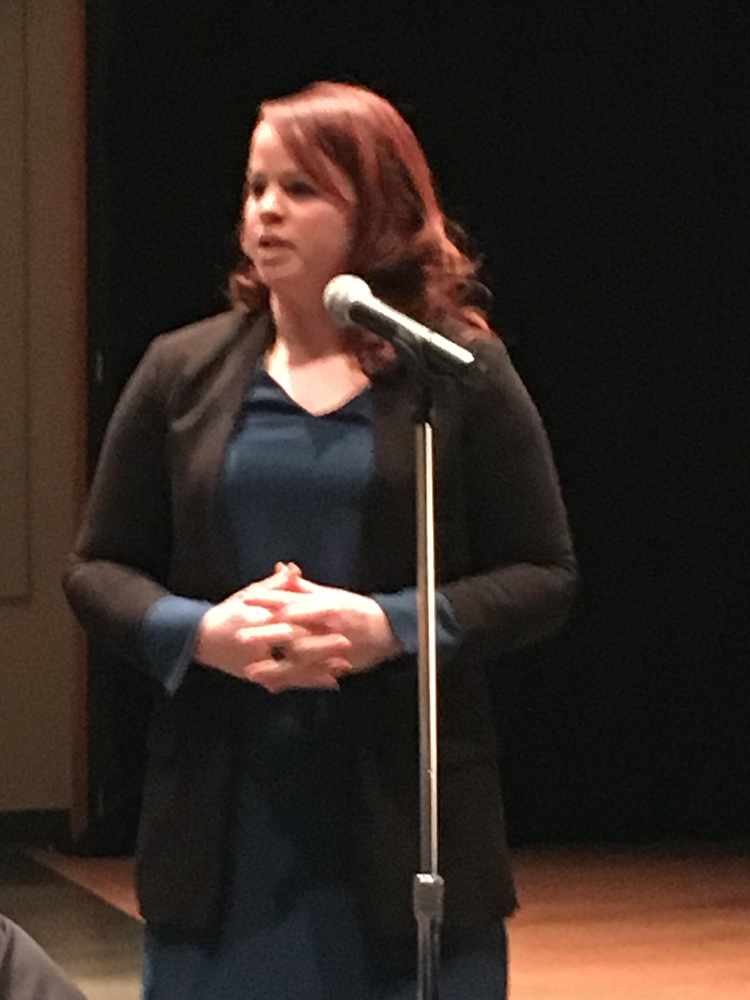 District Attorney Angie Kemp speaks at the Juneau Public Safety Town Hall
Juneau, Alaska (KINY) A town hall meeting was held to get public input on Juneau's crime problem.

Trooper manpower continues to dwindle and crime rates continue to rise. The Juneau Police Department hasn't been able to fill all of their police officer positions.
Sgt. Sterling Salisbury said at times, the department has only four officers on shift. "This job is inherently dangerous, many police officers are killed every single year."
They also respond to incidents outside the road system.
There are 57 police officer positions. Only 46 are filled. It costs $140,000 to train a new officer. They also need 12 full-time dispatchers. The vacancy rate is 43 percent.
They lose officers to the lower 48, higher salaries, and higher benefits.
In 2018 there were 51,820 calls for service, 32,000 police responses, 4,600 cases, and reduced staffing on weekend nights.
Since 2015, crime has risen by 84-percent in the capital. Proactive policing has gone down because they don't have the time. "I never see a cop drive through my neighborhood. We don't have the time."
Salisbury said better benefits, improved wages and full staff police, 70 police officers, are solutions to the crime wave.
"We can talk about better wages, better benefits, we need to incentivize people to come here."
The average stay at Juneau Police is 4.4 years in Juneau. Take away the six months in training, and that leaves under four years for the average stay. "It is a detriment of the department, to the people training them and to the people of the city," he added.
Comments from the public included an appreciation for the chance to talk about public safety, the use of police body cameras, more training to deal with individuals with mental illness, and more focus on drug treatment.
K.J Metcalfe spoke about barriers for those released from prison and finding ways to stop repeat criminals. He said a lot of inmates could be rehabilitated, "Putting them in jail over and over again doesn't work. Treatment is a far better way. I advocate restorative justice rather than punitive. That is a far better way to treat people."
Neighborhood watch programs and programs to promote a more alert citizenry willing to provide information to police were other solutions mentioned.
One resident said she witnessed drug dealing daily in Switzer Village, she told them she was taking pictures and telling the cops.
Another solution is a police K-9 unit to crack down on drugs.
The spouse of one officer spoke glowingly about the love for the community and the dedication her husband has for police work and this community.
Others spoke about the experience of being a victim of crime and the sense of violation and despair they felt.
A recovered drug addict thanked his family's support for helping to turn his life away from drugs.
District Attorney Angie Kemp said resources have not kept up with the rise in crime. "I can't be as effective an advocate if police don't have the resources to do the things that they do."