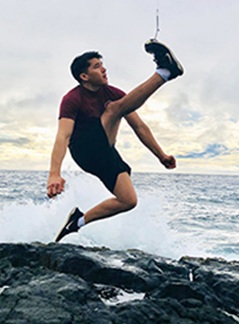 Kyle Worl
Juneau, Alaska (KINY) - Traditional games athlete and coach Kyle Worl is one of two Alaskans chosen for the state's "Southeast Champions for Kids" award this year.
Worl and fellow awardee Kevin Ritchie have been instrumental in helping children and families in Alaska thrive, according to an announcement released by the Alaska Children's Trust, the statewide lead organization focused on the prevention of child abuse and neglect.
"Most Alaskan children are growing up with the supports and tools to thrive. Unfortunately, many do not. Each year, thousands of children in Alaska experience child abuse and neglect and it is the Alaska Children's Trust mission to prevent it. Investing in our children safeguards their well-being today and assures the future success of our state," the announcement said.
The awards will be given from 5:30-7 p.m., Wednesday, Jan. 29, at the Alaska State Museum atrium in Juneau. For more information about the awards, event and Alaska Children's Trust, please contact Julia Martinez, jmartinez@alaskachildrenstrust.org.
Worl was nominated by Sealaska Heritage Institute, co-sponsor of the Native Youth Olympics program in Juneau, which has recently expanded to support young athletes across Southeast Alaska. The nomination was supported by the Juneau School District and Tlingit and Haida Central Council's Tribal Family and Youth Services Department.
Worl has won many medals competing in traditional games in Alaska and outside the state, and when he moved to Juneau in 2017 to work for the school district, he spearheaded an effort to revive the sport in Juneau and the region. In 2018, he led a Juneau team to compete in the State NYO in Anchorage for the first time in almost 30 years.
Evaluations and surveys have shown that students who participate in NYO demonstrate a marked improvement in leadership skills and self-esteem. Seventy percent of students said the program helped them improve or maintain grades and refrain from or stop using drugs and alcohol, according to Native Youth Olympics Evaluation Report, a study commissioned by SHI and Central Council of Tlingit and Haida Indian Tribes of Alaska.
Worl has gone above and beyond coaching. He also hosts Saturday study halls for high school students to maintain their grades. Worl, a UAS Adjunct Faculty member in Tlingit Language I, also supports students during the school day through tutoring and Tlingit language instruction and by providing snacks and a quiet, safe place to work.
William Kronick of Tlingit and Haida Central Council's Tribal Family and Youth Services Department put it this way in his letter of support for Kyle's nomination.
"Kyle's work helps students build the skills to survive, but more importantly, change our broken world. By teaching students latseen, (strength of mind, body and spirit) he has helped raise a generation that will improve our world for the next."