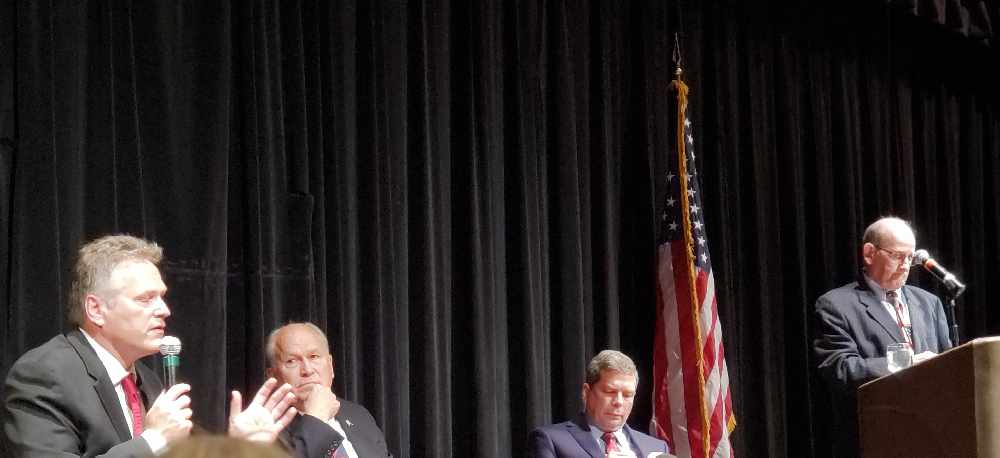 Juneau, Alaska (KINY) - A packed room heard from the three candidates for Governor and where they stand on issues like the budget, crime rates, the timber industry, economy, and the overall future of the state.
The candidates this year are Republican Mike Dunleavy, Democrat Mark Begich, and independent incumbent Governor Bill Walker.
In opening remarks, Senator Begich said people are concerned about crime, the education system, and said it was unacceptable that Alaska was ranked 46th out o50 states in education. Protection of the Permanent fund and concern about the future of Alaska were also mentioned.
"This election is about the future of Alaska, it is about what we are going to do today that impact generations to come," he added.
Senator Dunleavy said Alaska was a bright light and a beacon when he arrived in 1983. He worked at a logging camp on Prince of Wales Island. He said the state was much more optimistic at that time. He also worked as a teacher, and school superintendent in Kotzebue. He noted people made better wages when he first arrived, "Something happened to Alaska over the last four years. A lack of optimism and a lack of leadership."
Gov. Walker said he ran for Governor because he was concerned about the fiscal situation. "We were not masters of our own future. We were waiting for somebody else to do something and live off what they do."
He said he had to do some tough things that were politically unpopular to get the state's debt under control. "We put the fire out and now these two people want to move in there."
Walker said he won't quit and run away from the state's problems, "There are more things that we need to do. The center of government of the state is here in Juneau and that is where it will stay."
Juneau Access Project
Dunleavy said roads to move resources, goods and services are what will build Alaska's future and the economy. "You will continue to have high costs without a road and a stunted economy." He said he would reactivate the road and connect it to Haines.
Walker said once the state fiscal house is in order, he would support the new road. He said he would like to build the road to another road and not to a ferry terminal that has not been built. "We have to close the fiscal situation and then build the Alaska that we want."
Begich said there are all kinds of transportation needs in Southeast. He said they must look at it in a strategic way, "I presented a six-year capital program and it takes projects like this and needs to figure out how to fund them. We can't plan them forever. We have to consider long-term infrastructure."
Alaska Marine Highway System
Walker said he is a strong supporter of the system. He said he has worked with the Southeast Conference on the future, "I want people close to the system, to bring the solutions. I'm pleased with the work they have done. I think it will be a step forward." He also mentioned the need to solidify the schedule of the ferry system.
Begich said the system has maintenance needs, has inconsistent schedules, and is important to the state. He said the state must step back, figure out the best way to do it, and make sure they have a thriving marine highway system. "It has been treated as a second-class service and that is not fair to the people of Southeast."
Dunleavy said there are ways to make it more efficient and lower costs. "Alaska has to raise the revenue to pay for services. We can't devolve into a situation where we take a dollar out of Bob's pocket and give to Sue. It is part of the highway system."
Fiscal Future
Begich said every year the legislature focuses on how big the dividend is. He said some of the funds should be put toward education. "There are no pink slips for education this year because it is an election year."
Dunleavy said the enemy of the future is not the PFD. He said the budget is uncontrolled and keeps growing. Today it is $4.5 billion which is unstainable. "No fiscal plan can keep up with that spend. We are in a recession and our economy is not growing."
Walker said he has reduced spending by $1.7 billion and cut state positions. "We did the work and it was not pleasant. We need a source of broad-based revenue. We have $1.6 billion in payroll to people that don't live here. We must have an adult conversation. We can't tiptoe around revenues."
Mining, Tourism and Fishing Industries
Dunleavy said these industries will grow the future of Juneau. He said the state has to have a stable environment for investors. "Alaska is a laughingstock. Until we get our house in order we won't get the money we need to produce these mines." He also urged support of the timber industry in Southeast. He said the demand for wood is high around the world.
Walker said he comes from the tourism background and praised the Kensington and Greens Creek Mine. He noted he created a citizen advisory council for the Tongass National Forest. 13 citizens will be on the committee from all areas of the economy. "It's a matter of being able to work with the federal administration. This committee I think will finally get the job done."
Begich said mining, fishing, and tourism is important to the entire state. He said Alaska should work with other states to get tariffs off Alaska fish. He wants more opportunity for young people to get into the fishing industry.
Preserve Juneau as the State Capital
Walker said he sat down with the President of BP and other oil executives and held the meeting in Juneau. "We need to make sure we treat Juneau as the capital. The capital will stay here. I don't support a resolution to move it. This issue occasionally crops up. It will stay in Juneau."
Begich said Juneau is the capital and will always be the capital. He said cabinet members need to be in Juneau but also must travel around the state to know the issues and the concerns people have.
Dunleavy also supported keeping the capital here. He said the community has done a great job to enhance the capital. "We do have to get out in the state, it's a big state, with a lot of issue, diverse culture and issues. This will remain the capital."
The candidates were also given a chance to question another candidate. Begich questioned how Dunleavy will fund his budget. Dunleavy said there are new oil finds that will come online in the next seven years. He also advocates more efficiencies in government. Begich said Dunleavy's plan will eliminate the permanent fund.
Dunleavy asked Walker about the stress caused when he cut the PFD in half. He said it caused some small businesses to fail. Walker said the dividend six years ago was $800 six years ago. He said he was able to lower the deficit to $700 million. "We have been here before, we relied on the price of oil. We have the budget down from 90 percent to 30 percent on oil revenue. We have to get off oil prices and not worry about the oil prices today." He said Alaska needs a larger permanent fund to pay for government and protect the annual dividend.
Gov. Walker said Dunleavy did not have any answer to areas of the budget he would cut during a recent debate on KTVA in Anchorage. Dunleavy said the Governor proposed numerous taxes when oil was $26 a barrel, too many to list. He said that he proposed budget reductions over four years in 2017. He said the operating budget is unsustainable and will blow through the permanent fund.
The candidates also answered questions from Chamber members. They include how can the state get revenue from non-residents who work here.
Dunleavy said the state can be managed better with lower crime, better education, and an improved economy. Walker said he pushes for companies to hire Alaskans. Begich said 27-percent of teachers are from Alaska and the rest from out of state. He said more nursing programs are needed because it is the fastest growing occupation. Begich said there will have to be some revenue source that touches the out of state workers.
On curbing Medicaid and health care costs, Dunleavy said the high costs will bring the state to its knees. He said they must get block grants from the federal government. Walker said Medicaid expansion provided health insurance to 44,000 Alaskans. He said it provided a $1 billion boost to the economy. Begich said people can't pay for health care. He said 78 percent of Medicaid goes toward preventable disease and ailments. He said he wants to increase access to health care.
On President Trumps job performance, Begich scored him a -4, Dunleavy an 8, and Walker 5.
In closing arguments, Walker said he has made progress in improving the state. He said 80-percent of the fiscal crisis is resolved. He said he wants to finish the job. He said being independent he has more flexibility to work with all political parties.
Dunleavy asked if the past four years have been the best in Alaska history. He listed high unemployment, poor educational outcomes, high crime rates, and the instability of Alaska's economy. "If you think the last four years have been great, you know what choice to make, If you like the idea of taxes and growing budgets, you have another choice, if you want Alaska working for you, you have the choice."
He said Alaska could be more like Iceland with great policy and great leadership. "We don't have to take money from Joe to Bob."
Begich said the competition of ideas make Alaska what it is today. "All three of us love Alaska the question is where do we want to take it and how do we get there? He listed improvements to public education, making Alaska safer, be innovative and creative, and not being afraid to take on challenges.
Begich encouraged voters to go to his website for more positions.
KINY Action Line host Pete Carran served as moderator. For the full forum, check out the recording posted On Demand.