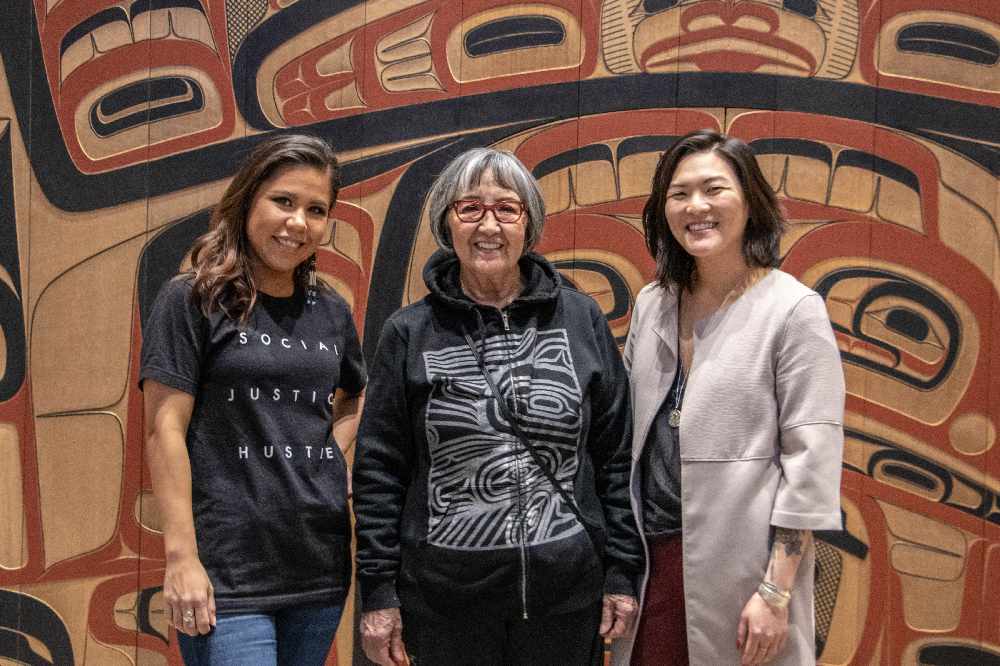 Kindred Post owner Christy Eriksen making a donation to SHI in recognition of its efforts to effect social change. (Photo by Lyndsey Brollini, courtesy of Sealaska Heritage Institute)
Juneau, Alaska (KINY) - Kindred Post of Juneau has donated 10 percent of its profits from its Social Justice Hustle collection to Sealaska Heritage Institute in recognition of the institute's work to forge social change.
In a letter, Kindred Post owner, artist and activist Christy NaMee Eriksen wrote that she chose SHI to receive its annual donation because the institute creates, "positive change at every level, from baby raven reading roots to the fruit-bearing branches of public policy."
"Art programs like skin sewing workshops, formline classes, art purchases and youth academies have empowered Alaska Native artists across generations and have educated and enriched our community. I would bet a jar of salmon that there isn't a person in our town who hasn't been impacted by the work you've done," Eriksen wrote. "You make this world, our world, better."
SHI President Rosita Worl said she was very moved by the $550 gift and the sentiment conveyed.
"We work hard to raise funds for our programs through grants and donations, and so it's very gratifying when a donor steps up and makes a gift such as this to simply recognize and honor our efforts," Worl said. "I'm moved by Christy's thoughtful act and her stated appreciation of SHI's impact on the community as a whole."
The donation proceeds came from 2018 profits on Kindred Post's Social Justice Hustle merchandise, including t-shirts, sweatshirts, and pins.