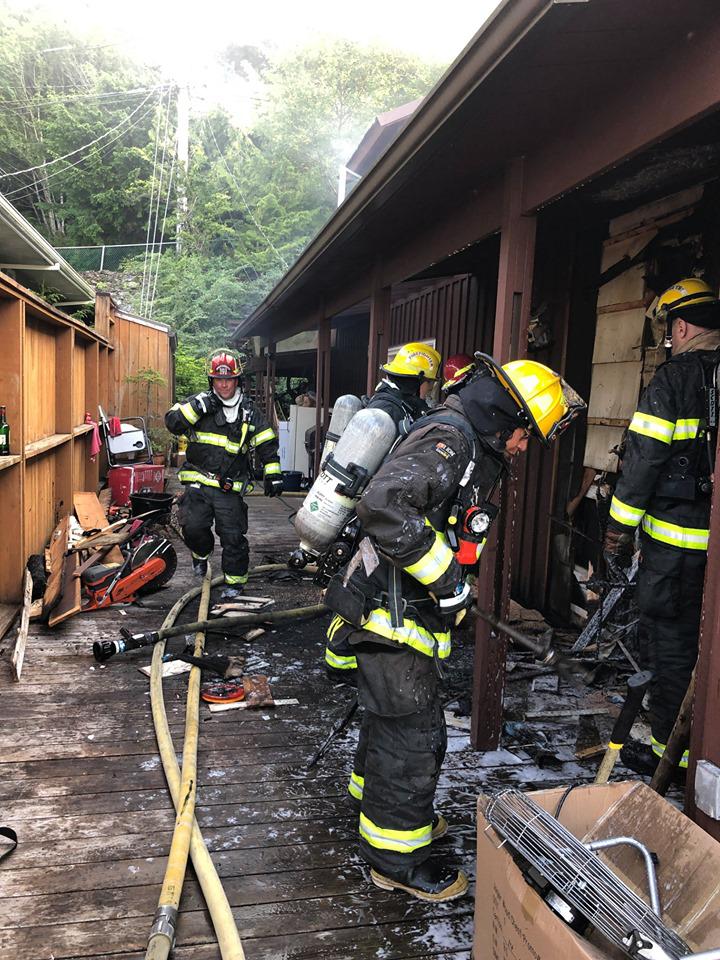 Ketchikan firefighters reposnd to an incident in 2019.
Ketchikan, Alaska (KINY) - The Ketchikan Assembly will look to spend more than $50,000 on new fire department radios.
The North Tongass Fire Department had identified the need to replace its radio system in the FY 2021 Five-Year Capital Improvement Project.
At its 2020 Policy Session, the Assembly approved the project. The cost would be just more than $53,000.
Due to the pandemic, the project was eliminated from the initial FY 2021 budget. The North Tongass Service Area Board and Fire Chief have asked that the item be reinstated in the budget.
The Department's current Kenwood radios were purchased in 2004, and are now 16 years old and well past their service life. After 10 years of service, the radios are considered obsolete and no longer supported by Kenwood. According to Borough staff, the department has been using parts scavenged from out of service radios to keep a sufficient number of radios in service.
The primary decision to replace the Kenwood radios with Motorola 6000 radios is to improve communications with the interior firefighters. The Motorola 6000 radios will wirelessly link to the SCBA units, allowing clear communications without the need to remove the mask.
The Ketchikan Fire Department began purchasing the Motorola 6000 to utilize the State of Alaska Land Mobile Radio system, and report they will no longer be purchasing radio equipment that is not ALMR capable, in preparation to shifting to the system in the future.
ALMR capability is important in order to maintain interoperability with the Ketchikan department moving forward.
The Department will not surplus the old radio equipment as they are only replacing the radios for personnel who are trained and authorized to wear an SCBA. The Department will continue to use the Kenwood radios for EMS and other operations not requiring SCBA, but will no longer purchase radios not capable of ALMR, eventually phasing out the Kenwood radio equipment.