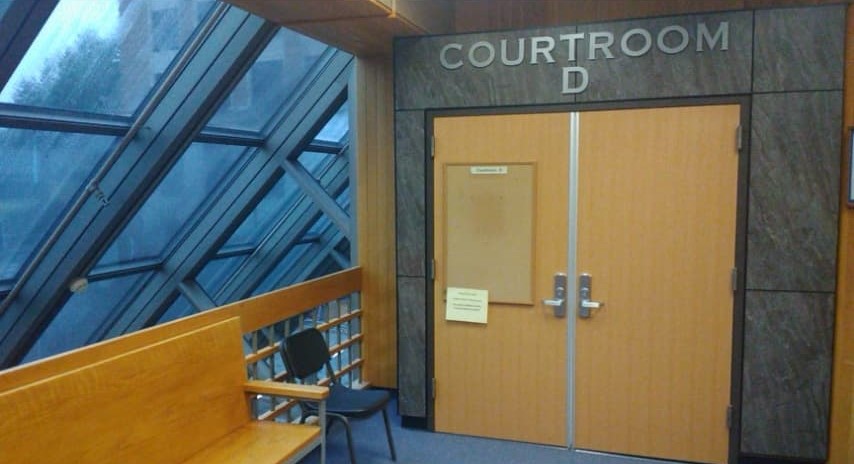 Courtroom D at the Dimond Courthouse in Juneau.
Juneau, Alaska (KINY) - The double-murder trial of Laron Graham continued Tuesday in the courtroom of Judge Phillip Pallenberg.
Graham is accused of shooting to death Robert Meieres and Elizabeth Tonsmeire at a Douglas Island apartment in November 2015.
Judge Pallenberg said jurors might receive the case as early as Friday or Monday of next week.
On Tuesday, jurors continued to hear testimony from Juneau Police Department Sergeant Matt DuBois. He testified that posts made by Graham showed him to be paranoid at times. DuBois testified that posts by Graham said he was being "followed."
"Federal agents are all around my every move as if they are slick," states a post from Graham's Facebook page, dated Nov. 20, 2015.
Dubois also said that photos from Graham's Facebook page showed him wearing shoes that he allegedly wore on the day of the murders, and that images of Graham wearing them were captured when he boarded a Capital Transit bus on Douglas Island around the time officials believe the murders happened.
One post also stated he was willing to "blow" someone's head off as it related to a separate, domestic situation with a romantic partner. Another photo entered into evidence allegedly shows Graham with a Glock handgun.
DuBois, who is a certified Glock firearms armorer, said the weapon seen in the photos was consistent with that make and model of weapon. He testified that Glock manufactures 10-millimeter caliber handguns, which was the size of weapon used in the murders.
Despite DuBois's testimony, the murder weapon has never been recovered.