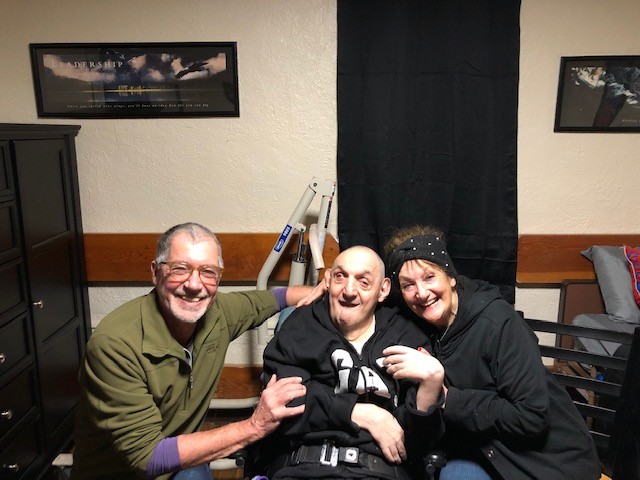 Sharon Gaiptman (right) with her brother Lenny, (center) and husband, Peter, (left).
Juneau, Alaska (KINY) - Sharon Gaiptman thought her brother Lenny had died near birth.
The former host of KINY's Capital Chat said when she was a teenager she was told by her grandmother that she had an older brother.
She grew up in North Philadelphia with a brother and a sister.
Her grandmother's statement upset her mother and her father told her to never bring up the subject again.
"I respected his wishes. I did of course interview as many relatives as I could. My folks were told he would die within a couple of days and I don't think they ever saw him. That was the way things were done in 1946."
Gaiptman said she felt she needed to get the medical history of her family when she became pregnant in her early 40s. He told her his wife had been exposed to German Measles and the baby was severely deformed and taken away. After her father died she aggressively searched for her brother in 2014.
She also requested birth and death certificates for her brother in Pennsylvania. She received the birth certificate but the death certificate never came.
She located a newspaper article in Pennsylvania that reported he had been taken to a hospital in 1976, which is 30 years after he supposedly had died. The item appeared about Leonard Gaiptman, of Spring City, Pennsylvania in the small newspaper.
She learned her mother had German Measles and that her brother was living at a small group home in Philadelphia.
COMHAR, is a nonprofit that serves 11,000 people with mental illness, intellectual disability, and other problems in Philadelphia.
She eventually got in contact with the home and they invited her to meet her brother. She has seen her brother four times in recent years.
"It was incredible. The people who care for him have just like dedicated caregivers everywhere. They treat him so well. He is in a wheelchair and a sling and it takes a couple of people to hoist him up and take care of him. He's incredibly happy, he's very charming, he's always smiling. His speech isn't perfect but he can say my name."

.