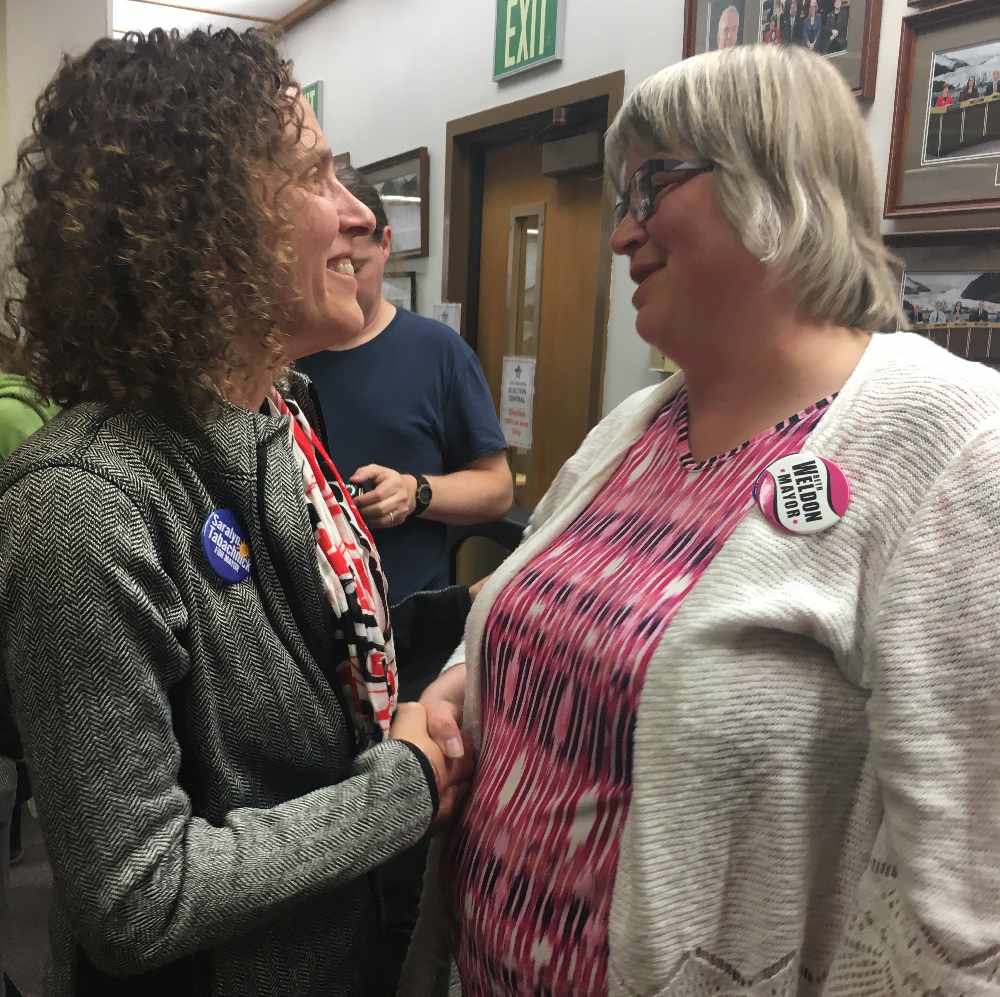 Candidates for Mayor Saralyn Tabachnick (left) shaking hands with Beth Weldon (right). Photo by Charles Murphy.
Juneau, AK (KINY) - With all of the votes in, aside from the absentee ballots, we now have a solid idea of the results of the Juneau Municipal Election. We caught the reactions of some of the candidates.
NOTE - Election results have yet to be finalized. Catch the current standings here.
On the Assembly, the Areawide Seat has been won by Carole Triem who had 3,842 votes compared to Tom Williams who had 2,500 votes. For the Assembly District 1, there was a clear victory with Loren Jones being the only candidate.
Jones was asked about the level of experience on the Assembly.
"Seniority doesn't make you a leader, you need to have good ideas and work on the issues, which I think did that no matter where I was at."
In the Assembly District 2 race, where there was a 3-year term and a 1-year term up for grabs, Michelle Bonnet Hale led the group with 3,381 votes. Coming in second was Wade Bryson with 2,274 votes, but was closely followed behind by Garrett Schoenberger with 2,152 votes.
Bonnet Hale had this reaction.
"My team and I worked really hard and it paid off. I'm totally thankful to the people of Juneau. My top priority is to work with the community to be away from being polarized and more towards working together to not jump to conclusions, but to really weigh issues, think about things, and then make decisions collectively."
Bryson could not express his gratitude to the community. He was also eager to return to hosting Problem Corner, the community oriented live radio show.
"I am just ecstatic. I've been waiting for this moment for ten years. My heart is just beating out of my chest and I just can't thank everybody enough."
There were three open seats for the Board of Education. Elizabeth Siddon captured the most votes with 4,905. Paul Kelly had 4,067 votes and Kevin Allen had 3,581.
In the Mayoral race, it was close throughout almost the entirety of the time results were trickling in. Beth Weldon was able to secure the lead with 3,431 followed by Saralyn Tabachnick who had 2,745 votes. Weldon was excited to see such a high rate of votes in the downtown districts and attributed much of those victories to walking the streets and talking with people.
Tabachnick did say that she won't give up hope until after the votes are finalized, but she was appreciative of her campaign team and those who joined her cause.
"It was a great race and I had a lot of fun. The people working with me on my campaign were just outstanding. There were people who said that they had never voted, never registered, made a donation, had a yard sign, held up a sign, it was really inspiring and I really appreciate the opportunity."
With Weldon likely being the next Mayor of Juneau, she was asked what some of her first priorities would be. Childcare was one of the top things on her radar.
"One of the issues that we need to get together on is childcare. I'm looking on doing some kind of task force."
Weldon said after the results came in that she would be celebrating with the people who helped her during the campaign.
"It takes a community to elect a mayor and it takes a strong support group to put a mayor out there. I'm very appreciative of everyone."
The votes have yet to be finalized though, so there could be some upsets when the absentee ballots are accounted for. Those are expected to be tallied on Friday with the final results being shared early next week.
McEwen was also impressed by the turnout of people waiting for the results.
"I have seen it crowded, I don't know if I've seen it this crowded."