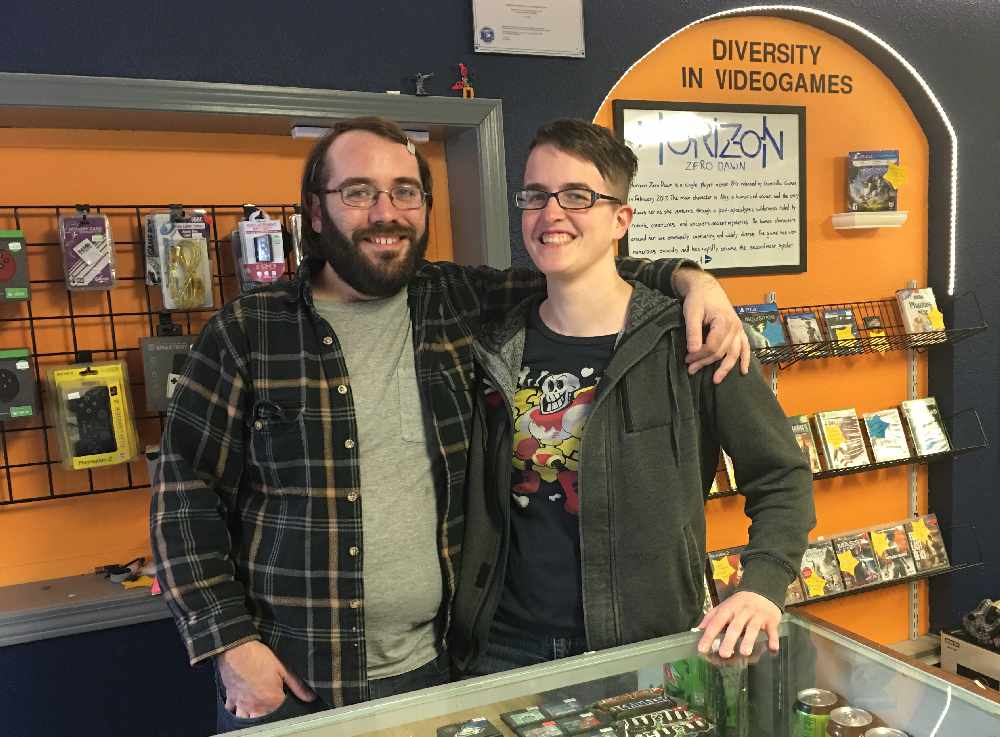 Casey (left) and Emry Harris in their store in front of their much celebrated Diversity in Video Games wall.
Juneau, AK (KINY) - Local video game store Game On has received national recognition by the SCORE Awards by Sam's Club. They are vying for a $15,000 grant prize and will be headed to Reno for the next phase in the competition.
When it comes to national representation of small businesses, a small video game store in Juneau that's tucked in between other small businesses by the airport may not be the first thing that comes to mind. However, Game On has succeeded in representing Alaska in the American Small Business Championship and the SCORE Awards that's run by Sam's Club. Together with Alaska Perfect Peony, Game On's owners Casey and Emry Harris will be headed to Reno, Nevada for a national training and networking celebration. Both businesses will also get assistance from a SCORE mentor for business counseling and advice. Winners were chosen based half of a panelist of judges comprised of business experts with the other half coming from a voting system.
Those voting for Game On turned out in droves as they beat out 1,100 other contestants in the state, labeling them as one of the most promising and influential small businesses in the country. If the next step in the contest goes well, Game On could find themselves in Washington D.C. for a chance to win a $15,000 grant for their business.
Game On is one of the few options for those looking to pick up video games and is the only store in the area offering games from every console generation there has been. Customers can pick up games on the latest systems like the Switch or PS4, but they also offer a ton of options on systems like the Sega Master System or the Atari 2600. While the games are what draws in most people, it's the shops celebration of diversity in video games that most people know them for.
This is done as a handpicked selection of games across history that positively reflect diversity through characters, gameplay, or story telling. The games that make into onto their Diversity in Video Games wall are marked with a star explaining why that game deserves some extra attention. This is how owners Casey and Emry battle against the often negative portrayal of gaming and the culture that's attached to the hobby. While not every game on the wall is a perfect example of diversity, there is something of value worth highlighting. Sometimes, Casey will even write essays about games that they feature and share them online.
We talked to Casey and Emry about the contest, their business, and gaming culture in an interview held at the Northern Tea House, who graciously let us use a spare room.
The community showed their support through voting, sharing posts, and reviewing the business. Emry explained their reaction to that level of support.
"All of the positive comments that we've had on our Facebook," said Emry, "it just feels like our victory is also the victory of the community. The support that we've been getting from people is just great."
When it comes to the actual turn out, Casey was surprised at the number of people voting for Game On.
"There were six of us in Alaska that made entrees that were viable and that met the minimum requirements and ours was the only one not from the Anchorage area, the only one in southeast," Casey explained. "I think it was really close; we almost had as many cumulative votes as everyone else combined. By our last check, they've pulled the numbers down for now, we had a higher per capita vote than anywhere else in the competition."
The owners stressed that Game On is more than just a place to buy and trade in games, there's a broader sense of community engagement at work.
"Particularly because of our trade-in system," said Emry, "our customers feel a sense of ownership and responsibility."
Casey agreed saying, "It's their store too and they say things like,'this was my game here on the shelf'. That stuff isn't gone, it's here, it's going to neighbors, friends, family."
"Somebody else is going to enjoy it," assured Emry. While Casey clarified, "Those games are going to go back to someone else in Southeast Alaska."
Within online games especially, there is a tendency for players to run into negative behavior that often reaches into a toxic territory. Game On was designed to establish a positive place for all.
"We didn't have a really set, defined gaming culture here in Juneau," explained Casey, noting how some of the larger stores would carry games, but not to an extent that satisfied regular players. "So when we opened up and we already knew what good gaming culture was, what kinds of jokes or language to avoid, the kind of harassment people can face, we were able to set up in direct opposition to that."
Casey talked about how universal playing games is and how Juneau has supported them. "Everyone plays games; play is universal to humanity and Juneau has taken this culture and without hesitation has jumped on board full force. We are gamers and we are proud."
One of the most prominent features of Game On is their Diversity in Video Games wall, which is a hand picked selection of games that feature positive representations of other cultures, races, and sexuality.
Emery explained the focus on celebrating those games, "When we were thinking about opening the store, we had to acknowledge what is bad about video game culture and what do we want to avoid. We decided pretty early on that we wanted to make the Diversity Wall the focal point of our business, highlighting diverse people in games and making people feel welcome in our store and helping them see themselves in games."
"It is really hard to find things like a woman of color protagonist and I beeline for those games and I think, 'Okay, I really need to get this up on the Diversity Wall.' I want people feel welcomed and to know that even though the vast majority of the games industry is having a really hard time with diversity right now, there are games out there that represent those people who come into the store."
Both owners were beyond excited about getting the chance to represent Alaska.
"Even if we don't become the grand champions, one of the three main winners," explained Casey, "the fact that there is a pro diversity, pro LGBTQ video game store among the best businesses in the United States this year, that that is something that matters that much to the people here and to the people judging on a national level. We beat 1,100 other businesses and we have gotten so much love and support in this town."
"This was such a humbling experience."
Find Game On on Facebook.