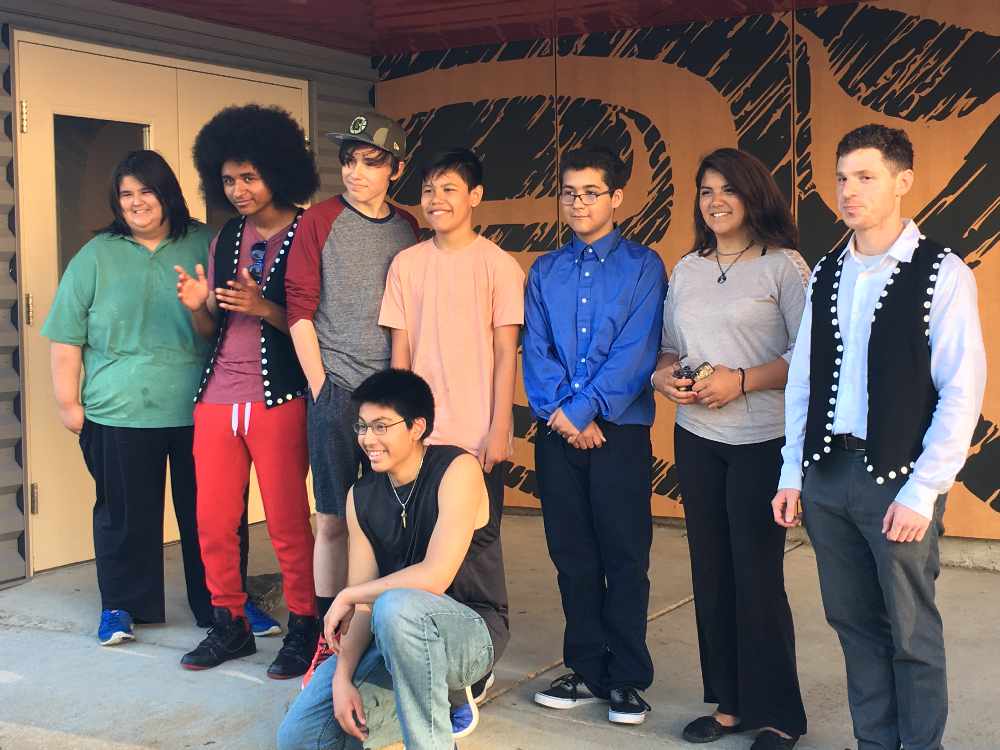 Juneau, AK (KINY) - A group of Juneau teens unexpectedly became a point of pride and excitement with a music video they produced during a summer camp.
The hip hop song is titled "Ix̱six̱án, Ax̱ Ḵwáan (I Love You, My People)" where Alaskan Native culture was celebrated and included Tlingit lyrics. The video was debuted at a gathering at Elizabeth Peratrovich Hall. It was originally going to be shown at Sacred Grounds, but due to popularity and turn out it had to be moved to the larger hall.
The whole project was produced in about two weeks with assistance from Josh Laboca of Second2NoneSound as part of camp sponsored by Tlingit & Haida's Tribal Family & Youth Services department through its Native Connections program. The youth involved were Jacob Brouillette, Marcel Cohen, Bradley Dybdahl, Arias Hoyle, Keegan Kanan, Geri Rodriguez and Kenndra Willard with all of them being local to Juneau except Jacob.
Arias "AJ" Hoyle told us how the idea came to be.
"This song came along in kind of a hilarious way, because originally it was going to be just a camp for traveling to Haines, canoeing, anything that would make Alaska Native youth connect more with their own culture."
"Then someone came up with a funny idea. This guy raps, how about we make a music video? I said that doesn't sound like a bad idea."
Hoyle was surprised on just how fast it all came together.
"I did not expect it to be the first thing we get to; I thought it would be an idea we saved for next year. Luckily, it came along way faster than expected. I remember thinking, I don't think rapping is a part of the Alaska Native youth stuff, but it will work."
When asked what they hope to do with what was learned in making the video Marcel Cohen mentioned boosting his presence on the live gaming platform Twitch.
"I'm hoping to use this for Twitch, yeah."
Jacob Brouilette talked about just how much fun he had during the camp and how now he has new friends.
"This was just something fun. We had a lot of laughs, my favorite thing to do."
The video was revealed during a packed event, which was followed by a Q&A panel. Due to people filtering in throughout the event, the video was even showed a second time and will soon be viewable online. Several members of the community including T&H President Richard Peterson showed pride and supported the group wholeheartedly.
"I am kind of in awe of these young people right now. You guys have done something in your own voices," he said during the Q&A session. "I think that is so important to every generation and I hope that it inspires others and I am looking forward to seeing what you guys do next. I think that will be pretty inspiring, because this was."
"I told AJ that you guys have to start using #IndigenousRockStar and #LoveMyMomma."
One line was thought by many to be a jab at Angoon, but was merely a reference to another performing artist that the teens were fans of.
The group's next project was said to be a parody of Childish Gambino's "This is America", but would instead be called "This is Alaska" and play on all of the various stereotypes of the state. They say that they have most of the song already written and hope to produce it soon.
Media coverage has also been planned from Channel 2 KTUU and several other media outlets locally have picked up the story.