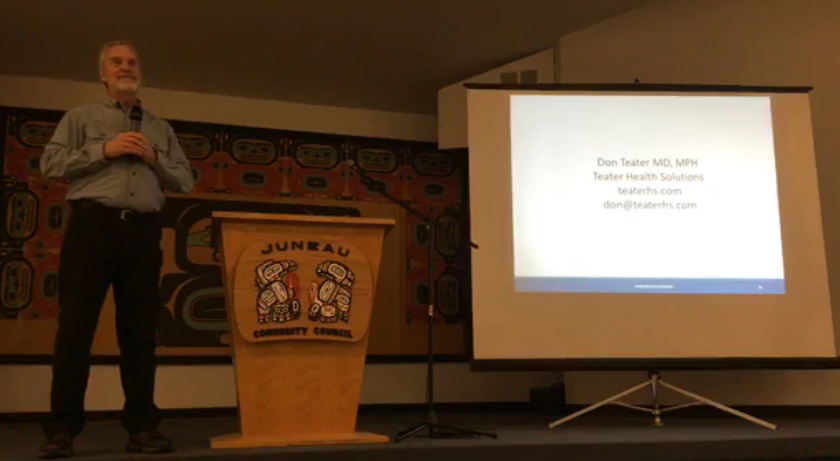 Dr. Don Teater speaks to members of the community on Saturday, Feb. 23.
Juneau, Alaska (KINY) - The Tlingit and Haida Community Council welcomed addiction expert Dr. Don Teater to Juneau on Saturday to make a presentation about the opioid crisis that has gripped the nation, and to an extent parts of Alaska.
Dr. Teater told News of the North about his role in helping communities grapple with the issue around the country.
"I see my role as explaining why this [crisis] is happening and helping people understand the issues of pain and opioid addiction and how they are closely related," Teater said. "I speak about they affect areas of the brain and change behaviors, so I want to help explain to people how we got to this point."
Juneau Tlingit and Haida Community Council President Kenneth Southerland explained why the tribe brought Dr. Teater to Southeast Alaska.
"We know there is an issue, and all our council members are aware and know there is a problem," Southerland said. "We want to get a good understand of what this crisis is and what we can do."
Poverty is a factor, Teater says, in allowing addiction to flourish. Compared to other areas of the country, Teater says Southeast Alaska "has a significant opioid abuse problem."
"When it comes to addiction among Alaska Natives and other Native tribes, historic levels of poverty and epigenetic factors play a part," Teater said.
A link to Dr. Teater's complete presentation can be found on the Juneau Tlingit & Haida Community Council Facebook page.