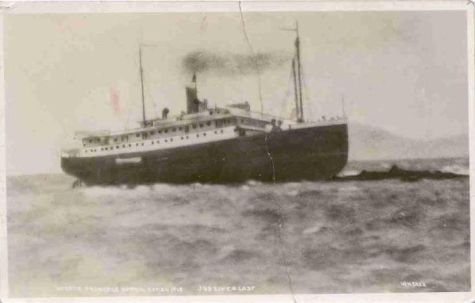 Juneau, AK (KINY) - A memorial observance was held at the State Museum in honor of the 100 year anniversary of the Princess Sophia tragedy.
That day more than 350 passengers lost their lives. The bodies fell into the hands of Juneau and other Southeast community citizens who cleaned them of oil and prepared them for transport. It's said that coffins had to be sent in from all over due to not having enough. This dark moment also came after an outbreak of influenza and right as an armistice was signed that ended World War I. Despite the tribulations of the time, people supported each other as neighbors, helping out people from all across Alaska and the western parts of Canada.
Carl Brodersen, who is on the Juneau Sophia Committee, led much of the evening's proceedings that included a proclamation signed by Governor Walker, prayer, and song. We asked Brodersen what lessons can be taken from the story of that tragic day.
"I would say that an important factor in all of this is the sense of community that we have, we should have, and want to perpetuate. Also just to simply remember the suffering of others. What those folks went through was absolutely awful and we lend power to it by remembering it."
Brodersen asked that people take a minute to reflect on the Princess Sophia.
"Take a moment to think about those who were lost 100 years ago and also the folks who you yourself have lost. A little bit of remembrance goes a long way for everyone."