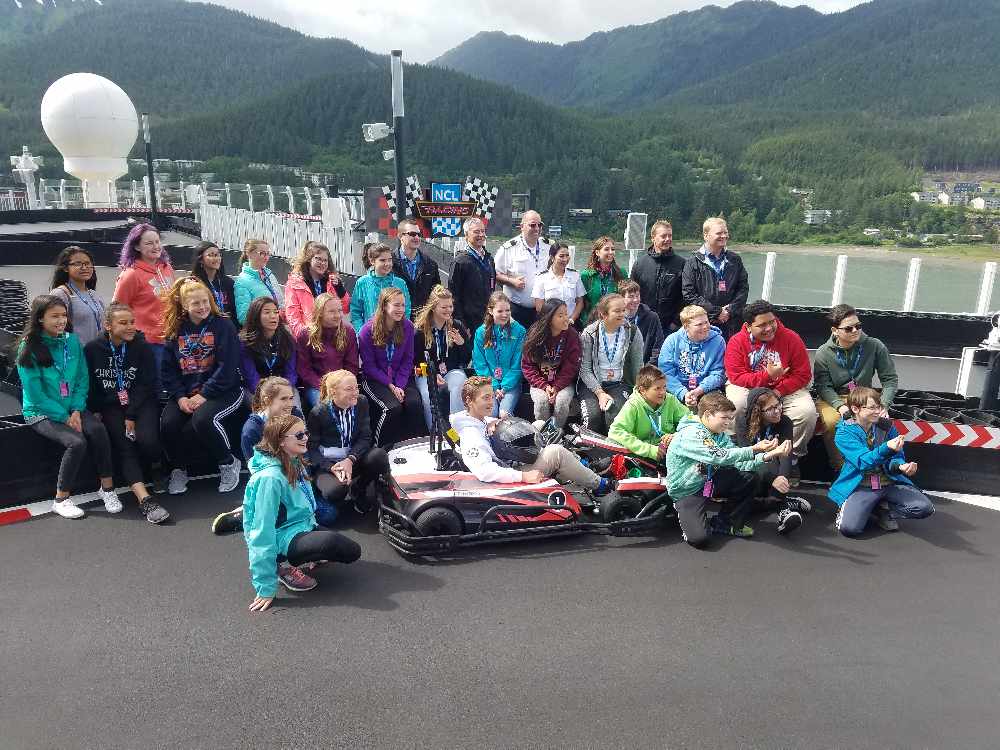 Juneau, AK (KINY) - Middle School students were invited on to the Norwegian Bliss Cruise ship that docks every Tuesday in Juneau until the end of September.
They had competed in an essay contest where the subject was the positive economic impacts of the cruise industry in Juneau, and those who won were given a free round of go-karting on top of the massive ship, as well as a free meal and a short tour of the vessel. President John Binkley of Cruise Lines International Association, when asked why CLIA chose to do the essay contest, responded:
"We want to give people a chance to understand and better know the cruise ship industry. They see the ships all the time and are curious about what it's like to be on a ship; we wanted to expose some of the middle schoolers to that and to teach them about the industry like what it brings to Juneau and what it means for the city."
Binkley also stated that if the cabins on the Bliss were booked with two people each, there would be 4004 passengers. Today, when the boat docked with many families on board, the number was over 4.700. He says that amounts to a major economic impact.
"Each one on average spends over 160 dollars when they're off the ship," said Binkley. "That adds up; there will be 80,000 people on the Bliss over the course of the summer. That's a lot of money in our community and a lot of positive economic benefits."
The group was chaperoned by a few parents as well, and the adults stayed behind as the kids went through their first three heats on the go-kart track. John Schauweker, when asked if he was proud of his daughter's essay writing abilities, stated:
"I was really pleased that she took the opportunity to take the time and effort to write about how the tourism industry really benefits Juneau. The adjudicators found that she did well enough to have the opportunity to come down and ride go-karts and see the ship."
The adults rode last, and the operators turned the speeds up to full throttle. By the end of the heat, JPD Officer Shaun Phelps had the fastest time of all the adults.