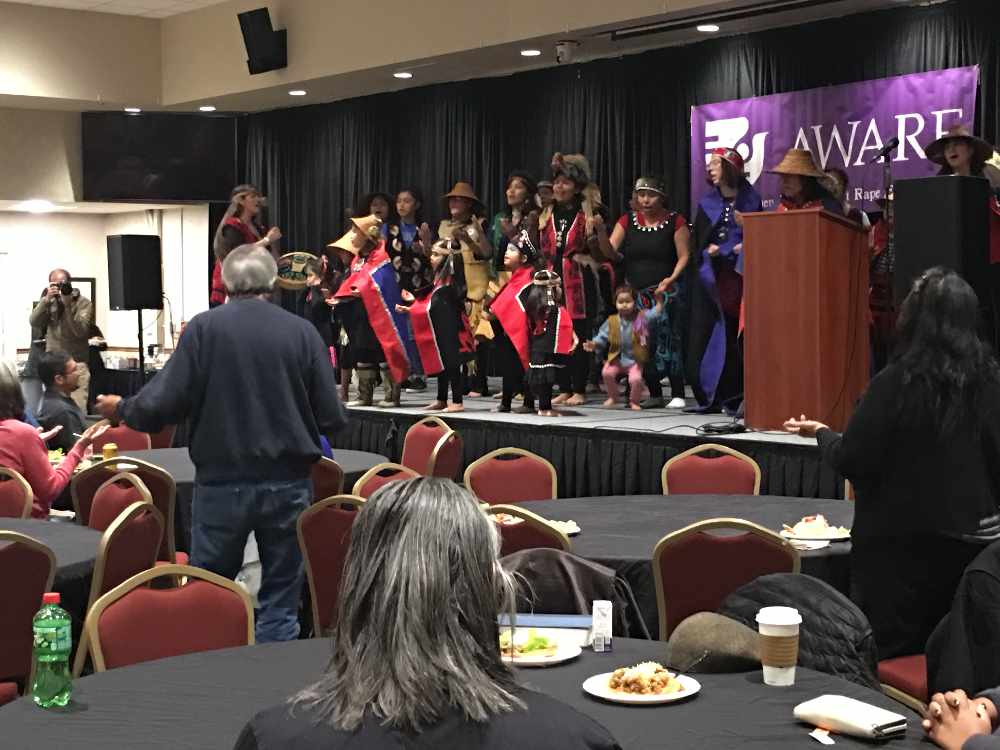 Juneau, AK (KINY) - A celebration of survival was held at Elizabeth Peratrovich Hall by AWARE to lift up those who have faced sexual assault and domestic violence.
Each of the speakers talked about the strength showed by those who survive and asked for more accountability and protection from men and those who are aware of something going on.
The Native dance group Woosh.ji.een also performed, where they asked the men in the room to stand on the outside of the room as a symbol of support. Lyle James, one of the leaders, talked about how the dance group and by extension the various communities can be pillars of support for victims.
"Always take into consideration the healing that everybody has to go through. We give them a safe place within our dance group."
One of the songs captured that essence of support between men and women and how historically Native men and women would vocalize their presence and protection of each other.
"The men and the women would call back and forth to each other to let each other know that everything is okay. This is our way of saying that we hear you. Your voices won't be silenced."
Executive Director of AWARE, Saralynn Tabachnick says that AWARE can be the connector to various resources
"I think of AWARE as the hub and we can help connect people to resources. I think it takes a lot of courage to reach out sometimes. If people call 907-586-1090 we can help and 24/7 someone is there to answer the phone. You don't have to give your name if you don't want to. Our services are free and confidential and we really want to help people break the silence and have that healing process."
Mandy Cole with Aware says there is help out there for survivors
"We can help you."
"We can absolutely find the right combination of things that can help you feel better. We're just hoping that we are talking about this, we're not quiet or feeling shame or feeling alone and that this whole community will come out and support you. That's exactly what we're trying to do tonight."
Cole said that the current political environment can make things more difficult.
"There's a lot of conflicts and a lot of talking about what it means to be a survivor lately and it feels really hard for people that have experienced that kind of abuse."
Tabachnick spoke about the significance of the celebration.
"This event is really meant to be uplifting, to help people with healing, to recognize families, allies, people in positions of power who can make a difference and we all can make a difference. We all have a role to play."
She added that domestic violence and sexual assault is not a political debate.
"Current events and Washington DC and with the Kavanaugh nomination to the Supreme Court has almost made sexual assault a partisan issue or tried to and it is not. It is absolutely not a partisan issue and no one deserves to be abused. All survivors deserve to be believed."
President of the Tlingit and Haida Central Council Richard Peterson said that domestic violence and sexual assault can be stopped, but it will take the work of everyone.
"If we can support each other and support the survivors, these cycles can end here with us."
Those looking for resources and help should contact AWARE through their website or by phone at 907-586-1090.