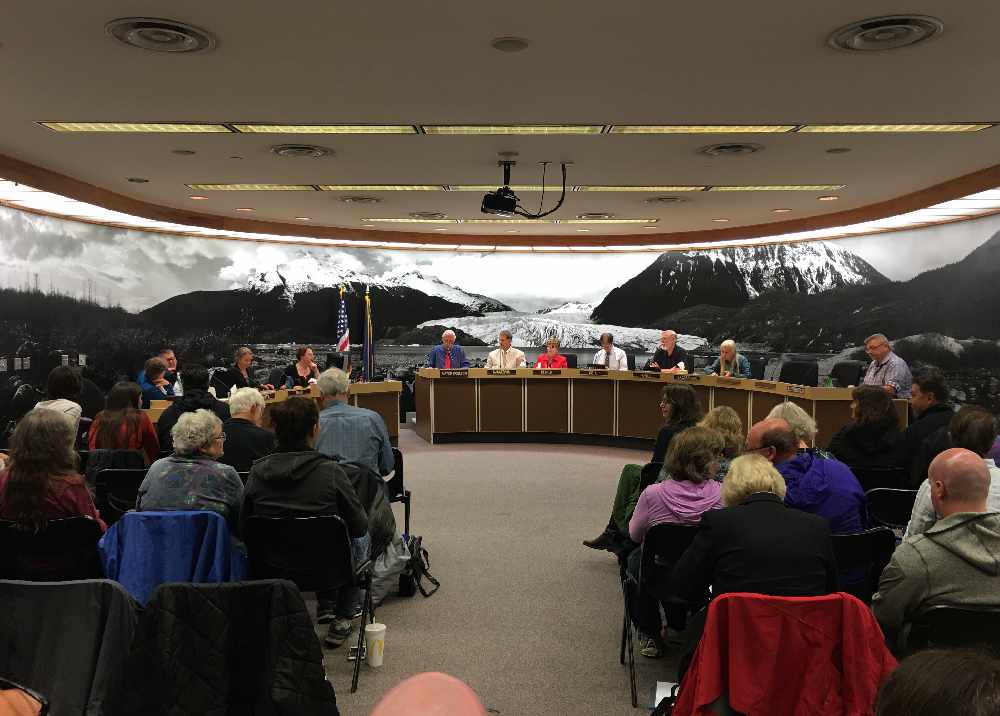 Juneau, AK (KINY) - The latest CBJ Assembly meeting had moments of debate, triumph, and questions for the future of the city. There are four Assembly seats up for grabs at the next election, as well as the Mayor's position, and three open seats on the Board of Education.
The meeting began with honors for Dan Austin and his work with the homeless and children. Amy Mead was also honored for her work as City Attorney, where she said that her job with the city was her best job ever.
Then began public input where several members of the community brought up the Senior Tax Exemption. Many of those community members feel slighted as money goes into other areas.
After this, the Assembly promptly went into discussion surrounding the Best Starts early education program that would take five years and 2.8 million dollars to be fully implemented. The resolution would have put the question to voters on October 2nd but failed on a 4-3 vote as five was needed to pass due to the Assembly being down two members, both of which had to resign to run for Mayor.
Members of the Assembly all brought up reasons on why or why not the resolution should pass, with all pretty well agreeing on the importance of childcare and early education in Juneau, however, it was the cost of the investment that caused issues. One couple that testified at the meeting revealed that due to expensive childcare they were selling their home in Douglas and leaving in September.
Vice Mayor Jerry Nankervis talked about how hard of a decision this education issue was. He told us that he fully supports education and childcare, but didn't think this was the right way to go about it.
"We get asked a lot for things. It is really easy to say yes, because saying yes feels good. Saying no doesn't feel good at all, ever. Sometimes I think it is necessary to say no and in this instance, I just wasn't ready to say yes."
Nankervis also alluded to other expensive projects that have come into play. When we brought up the decision to give Capital City Fire & Rescue extra funds, he says that he was also keeping in mind those other projects while discussing the education issue.
"A little under half a million for CCF&R, but when we fund it for the whole year if it comes back again next year, then that's half a million. Half a million for the Police Department and we did some other things, so we increased our budget annually by over a million dollars. We had a balanced budget before and we added a million to it, so now we have unbalanced it."
"Now we're drawing out of our fund balance and that's not sustainable over the long term."
After a break, Maria Gladziszewski asked for a reconsideration of the resolution at a later date.
At the end of the meeting, Assembly member Loren Jones pointed out Norton Gregory and Beth Weldon's absence on the voting, saying that if they had both been at their Assembly seats during that vote, it likely would have gone a lot differently.
Other items moved forward included $1.9 million dollars going to the Juneau Airport Gate 2 Capital Improvement Project. Only $170k came from Sales Tax, while the rest came from a Federal Aviation Administration Grant. The airport also will receive $2.2 million for various Capital Improvement Projects that are being funded by Passenger Facility Charge Fees.
Capital City Fire & Rescue will be getting $361k for 24-hour ambulance positions with funding coming from the General Fund. The City of Juneau also authorized the sale of the former Juneau Youth Services building to Alaska Legacy Partners. Plans involve senior assisted living for that space.