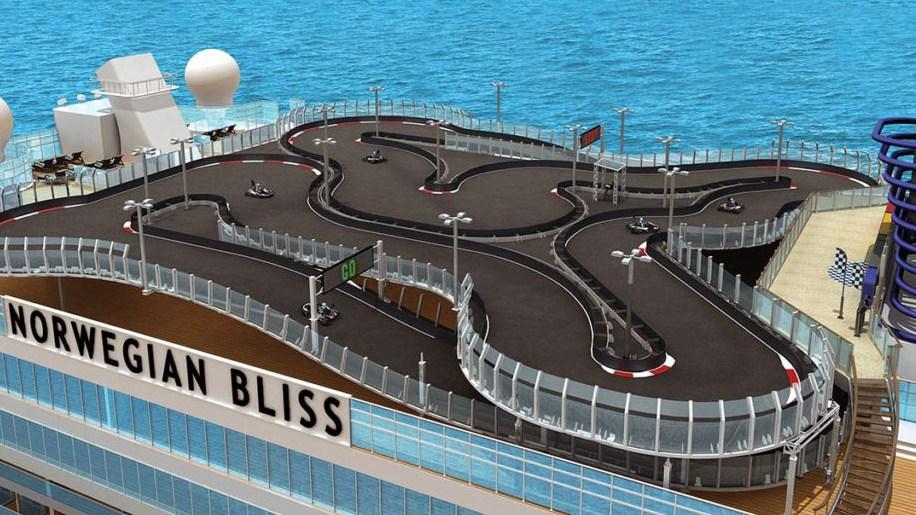 Juneau, AK (KINY) - Juneau Middle School Students will be getting a chance to earn a go-kart trip on the largest track at sea in an essay contest.
The Cruise Lines International Association Alaska (CLIA Alaska), Travel Juneau, and Norwegian Cruise Line are partnering to host an essay contest that educates young Alaskans about the positive contributions the visitor industry makes in Juneau. The contest is open to all seventh and eighth grade public school students in Juneau, where they may review economic research and then write a short essay.
Winning students will get to come aboard the Norwegian Bliss on June 26th for a tour of the ship, a pizza party, and go-kart racing. The Norwegian Bliss is a brand-new ship capable of carrying more than 4,000 passengers. It's the only cruise ship with a two-level, nearly 1,000-foot-long go-kart track.
"Our goals with the contest are to educate young Alaskans about economics and the vital role the visitor industry plays in Juneau's economy and have some fun while doing it," said John Binkley, president of CLIA Alaska. "The Norwegian Bliss was built specifically for the Alaska market and symbolizes the mutually beneficial relationship between the visitor industry and Juneau."
"Our visitors contribute a significant amount of sales, property and other taxes, which provide many services throughout the community such as police, fire, roads and even money for local schools," Binkley said. "Many people do not realize that visitors not only fund docks and other infrastructure, they inject so much into our economy that it helps provide these services while keeping local property taxes lower. By 2019, we project an additional $2 million increase in annual sales taxes to support local services."
"One of our goals for supporting this contest is to get kids thinking about the value of the visitor industry for Juneau and Southeast Alaska, as it contributes millions of dollars to our economy in terms of both jobs opportunities and revenues to our community," said Liz Perry, president and CEO of Travel Juneau. "The entire industry is a bright spot in Alaska's economy. We're excited to see the Norwegian Bliss and look forward to providing information services to its passengers."
All 7th and 8th graders are encouraged to participate in the contest. For more information, check out their website with further details.