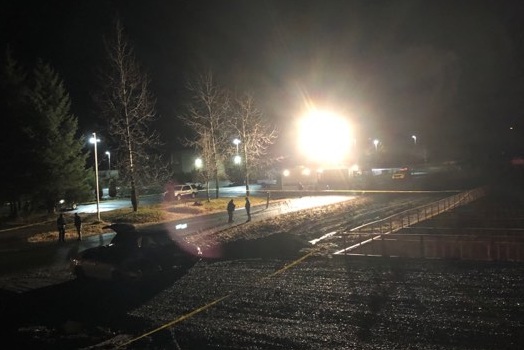 Juneau police officers investigate the scene on Sunday morning. (Photo courtesy 'Crime In Juneau' Facebook page)
Juneau, Alaska (KINY) - Juneau police have identified James Esbenshade as the officer involved in the fatal shooting of 34-year-old Juneau resident Kelly Michael Stephens.
Officer Esbenshade has worked for JPD since January 2009 and has 11 years of service with JPD.
An autopsy was performed by the State Medical Examiner on Stephens. A trooper from the Alaska Bureau of Investigations attended the autopsy.
According to a JPD press release, on Dec. 28, at approximately 10:18 p.m., the Juneau Police Department received a report of an assault that occurred in the area of Mall Road. A 54-year-old male Juneau resident reported that he was walking into Superbear when an unknown man approached him and threatened to kill him.
The victim said the male suspect swung a chain at him that had a grappling hook at the end. The suspect said, "I'm gonna kill you. I'm gonna kill you." The victim went inside the store and called the police. A JPD officer arrived and conducted an investigation into the assault.
The male suspect was not immediately located.
At about 12:28 a.m, on Dec. 29, the Juneau Police Department received a report of a disturbance with a shot fired at the Chinook Apartments.
At approximately 12:32 a.m., one JPD officer arrived on the scene in the area of the Chinook Apartments. This officer was the same officer that took the report of a male swinging a weapon at Superbear two hours earlier.
"The JPD officer heard yelling and contacted several people. One person was screaming and swinging a chain. The male suspect swinging the chain approached the officer on foot and repeatedly screamed that he was going to kill the officer. The officer repeatedly gave the male verbal commands to stop. The suspect did not comply. The officer shot the suspect one time in the torso."
Other JPD officers arrived on the scene and the suspect's weapon was secured.
The male suspect was handcuffed and an ambulance was called. CCF/R medics arrived and took the male suspect to the Bartlett Regional Hospital, where he was pronounced deceased.
JPD detectives were called to process the scene and interview witnesses. Investigators from the Alaska State Troopers Bureau of Investigations are en route to Juneau to assist with the investigation.
Stephens' next of kin have been notified.