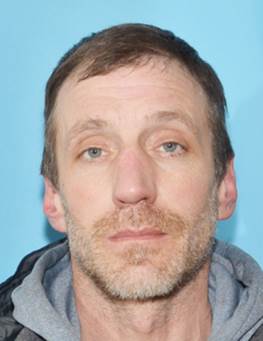 A photo of Calvin W Boord courtesy of Juneau Police.
Juneau, AK (KINY) - Juneau Police put out an alert for the public to assist in finding a man wanted for several theft-related warrants.
Not long after that alert was put out, the man was caught behind the Mendenhall Mall.
Police had been looking for 49-year-old Calvin W Boord of Juneau as he was a person of interest in ongoing investigations. He was also wanted on three outstanding warrants for his arrest: a $5,000 Felony Juneau AST Enforcement bench warrant charging of Failure to Appear for Hearing on an original offense of Burglary in the second degree and Criminal Mischief in the third degree, a $50 Misdemeanor Juneau AST Enforcement warrant for two counts of Violating Conditions of Release on an original charge of Theft in the fourth degree and Vehicle Theft in the first degree, and a $300 Misdemeanor JPD warrant for Subject to Answer to Charge of Violating Conditions of Release.
Boord had been caught trying to hide from officers in the wooded area behind the mall. He tried to escape but was quickly detained and arrested.