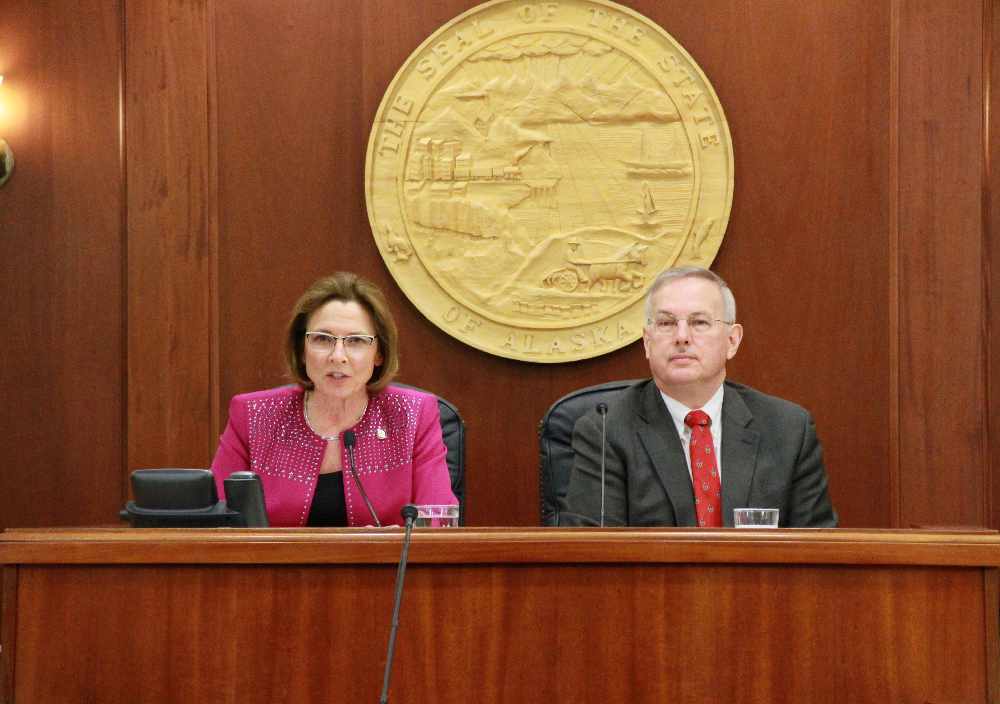 Alaska Senate President Cathy Giessel (left) and House Speaker Bryce Edgmon will preside over the joint session. (Photo by Daniel McDonald)
Juneau, Alaska (KINY) - A joint session of the Alaska House of Representatives and Senate will consider Gov. Michael J. Dunleavy's appointments on Wednesday afternoon.
The day of reckoning for the governor's appointees to commissions, boards and Attorney General has finally arrived.
A total of 13 commissioner appointments will be considered by the joint body, and will also include Attorney General Kevin Clarkson and the choice for Lt. Gov. Kevin Meyer's successor, Michael Johnson.
Each nominee requires 31 votes out of a possible 60 legislators present to be approved.
Additionally, the joint session will consider Gov. Dunleavy's appointments to various boards that serve the executive branch. The two most recent appointments are to the Alaska Commission on Human Rights. For that commission, Cynthia Erickson of Tanana and Alice Fullenwider were nominated on April 10.
Gov. Mike Dunleavy quickly nominated replacements after commission chairman Brandon Nakasato and vice-chair Freddie Olin IV said they would resign May 1.
Nakasato said his decision was related to the uproar involving executive director Marti Buscaglia, who was suspended after complaining on social media about a "Black Rifles Matter" sticker she saw on a truck in the commission's parking lot and believed to be racist.
Olin said he was leaving for unrelated personal reasons.
The chief of enforcement for Alaska's human rights commission also says she is resigning for personal reasons.
Sarah Monkton says she submitted her resignation Monday. She says it is to be effective May 1.
Monkton is the latest official to announce plans to leave the commission.
The joint session will be broadcast live on 360north.org.
Commissioner/Administrative Appointments
Department of Administration - Kelly Tshibaka
Department of Commerce, Community and Economic Development - Julie Anderson
Department of Corrections - Nancy Dahlstrom
Department of Environmental Conservation - Jason Brune
Department of Fish and Game - Doug Vincent-Lang
Department of Health and Social Services - Adam Crum
Department of Labor - Tamika Ledbetter
Department of Law/Attorney General - Kevin Clarkson
Department of Military and Veterans Affairs - Torrance Saxe
Department of Natural Resources - Cori Feige
Department of Public Safety - Amanda Price
Department of Revenue - Bruce Tangeman
Department of Transportation - John MacKinnon
Lt. Gov. Successor - Michael Johnson
Chief Administrative Law Judge - Kathleen Frederick