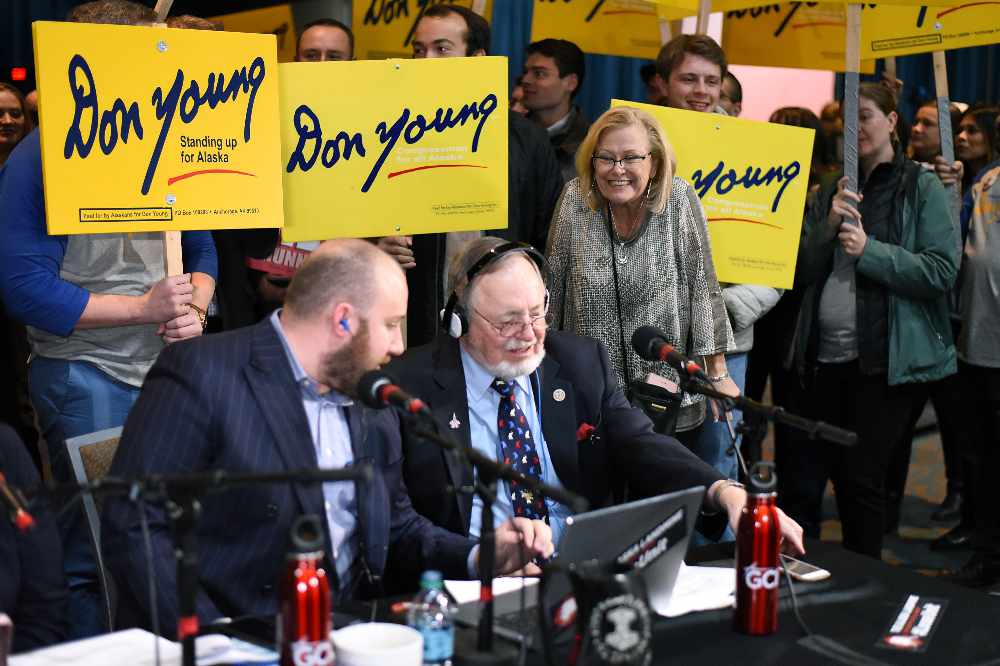 Jeff Landfield (left) interviews U.S. Rep. Don Young for his Alaska Landmine website.
Juneau, Alaska (KINY) - The Alaska House and Senate rules chairs have denied a political blogger his press credentials for the 31st Legislature.
Jeff Landfield, who operates the Alaska Landmine as an online news blog, had his pass request denied by Senate Rules Chair John Coghill and House Rules Chair Chuck Kopp via a letter on March 26.
Landfield's blog features news stories specific to the state government in Alaska, features a podcast, and the work of outside writers and contributors.
The joint letter said the decision was made "with careful consideration, and we commit to continuing this conversation with you going forward."
"We believe that, currently, the category of content you post on your site is incompatible with the Capitol Press Corps. Members of the Capitol Press Corps are expected to adhere to the Society of Professional Journalists' Code of Ethics, and we believe that some of the Alaska Landmine's content and participation in the Legislative process come into conflict with the Code," the letter states. "This is not a judgment on the quality or validity of the Alaska Landmine's content, simply an observation that it differs significantly from the work of traditional members of the Capitol Press Corps."
Landfield may still observe floor sessions from the galleries of the House and Senate, take photos, conduct interviews, and attend press availabilities. but may not enter the House or Senate floors.
"All Alaskans have the right to visit our state's Capitol and are encouraged to do so," the letter states. "In a meeting with Representative Kopp you mentioned that you were interested in taking notes by electronic means during floor sessions, and we are happy to work with you to make needed accommodations for your note-taking."
Sen. Coghill spoke about the decision and said Landfield's style of journalism -- which he calls "political activism" -- does not comport with decorum on the floor.
"It boiled down to how do I allow access to the floor, and to the press room, to those that are press people ... and what do we describe those press people as," Coghill said. "It boils down to if somebody is a political activist, they're probably not general-interest reporting."
Landfield says he has yet to receive an explanation from the Legislature on why his blog is excluded from receiving a pass. He also said he is not ashamed of being a "different" type of journalist on Capitol Hill in Juneau.
"I know I'm different than the regular media," Landfield said. "I was recently involved in a political PAC [and] I ran for office in the past. I've taken positions and sometimes when I write I will interject an opinion or editorialize because something is so obvious to me that it needs to be said. A lot of media want to do that but aren't allowed to because of the traditional rules that govern media."
According to the letter, Landfield will be allowed to apply for a pass again when the session re-convenes in 2020.
The letter can be seen here.