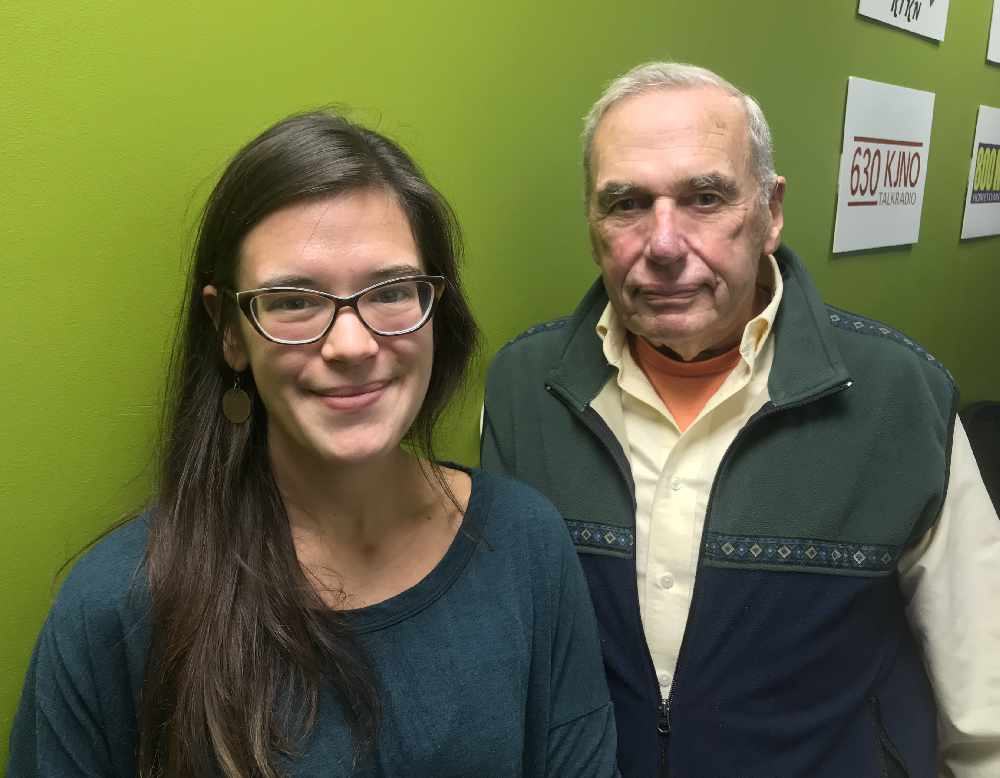 Shelby Surdyk (left) and KJ Metcalfe (right) after their Capital Chat interview.
Juneau, AK (KINY) - A student from Skagway was recently selected to plan and coordinate an International Youth Congress for the Global Elimination of Nuclear Weapons that will be held in Juneau in 2020.
That student, Shelby Surdyk, is currently working on her master's degree in Environmental Health at the American University of Beirut in Lebanon where she is studying the health impacts of depleted uranium weapons on the Iraqi populace. Surdyk and KJ Metcalfe with the Veterans for Peace were both guests on Capital Chat where they talked about the conference, the upcoming film, and why they believe that the world has no place for nuclear armaments.
Surdyk is working with the Veterans for Peace in Juneau to help put on the Youth Congress, in which they hope youth from all over the world will attend. Surdyk has done similar projects in Juneau in the past; she helped organize a three-day World Nuclear Awareness Conference at UAS back in 2008. For the 2020 event, they hope to have at least 60 international students and experts that can add to the conversation.
The actual location of the event has yet to be determined, but there are hopes that it can be held at the UAS campus.
Surdyk explained what her studies entail.
"For those that don't know, depleted uranium is a type of heavy metal that is used in some weapons like bullets and tank penetrators. The long-term health impacts of exposure to that metal are unknown and debated in the literature. For my thesis, I'm trying to summarize everything that is known from the literature currently."
She talked about her ability to meet students from all over the world as a student in Beirut.
"The university is a fantastic gathering place, a very cosmopolitan campus. Sometimes it feels like a miniature United Nations. I'm meeting students from all over the world and participating in a dialogue that's very focused on social justice, positive change, and it's a very inspiring place to be."
To get the dialogue started, there will be a film screening on October 14th at the UAS Egan Lecture Hall at 4 pm of "The Man Who Saved the World" a movie that depicts a Russian officer's refusal to launch a nuclear missile. The film shows just how close a third World War was and stars Robert De Niro, Matt Damon, and Kevin Costner. The event is free to the public.
KJ Metcalfe with the Veterans for Peace explained the gist of the film.
"When they saw six incoming missiles from the United States, the officer was under great pressure to do a retaliatory strike. It was some new equipment that they had installed. He wasn't absolutely sure that it was accurate, so he refused to launch until their local radar could confirm it."
"Most folks don't know how close we came to WW3 and it would have been the last world war."
Metcalfe summarized his thoughts on the use of nuclear weapons with a simple statement.
"Nuclear weapons are a weapon that we cannot use. We just have to get rid of them."
The full conversation can be found ON DEMAND on our website. There is also a website for the Veterans for Peace.