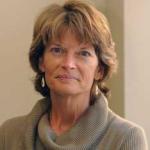 Alaska Senior United States Senator Lisa Murkowski
Juneau, Alaska (KINY) - President Biden has signed into law an omnibus appropriations bill containing funding for the balance of the fiscal year which includes many Alaska provisions in the Interior-Environment Subcommittee's funding bill.
Alaska Senior U. S. Senator Lisa Murkowski serves as the panel's ranking member.
Senator Murkowski says the measure fully funds the Payment in Lieu of Taxes or PILT program which is important to Southeast communities like Juneau. That amounts to $515 Million.
The measure includes congressionally directed spending allocations for Alaska known in previous days as "earmarks." There are two items for Juneau. The City and Borough of Juneau will receive $800,000 to reroute influent piping around obsolete solids separation equipment, according to the release issued by the senator's office.
The Sealaska Heritage Institute is earmarked one-half million dollars for its Kooteeya Deiyi project which will create a trail of totem poles and storyboards representing Tlingit, Haida, and Tsimshian clans along the Juneau waterfront.
There's $1.22 Million for the Prince of Wales Island community of Klawock to purchase landfill infrastructure and associated maintenance costs for that village as well as Craig and Coffman Cove to comply with new garbage removal requirements.
Ketchikan receives $1.25 Million to repair the decaying Schoenber Culvert to avoid its failure and potential subsequent discharges of untreated water.
Metlakatla will receive $780,000 to improve solid waste management on the reservation.
There's $10.2 Million for Skagway to expand the capacity of its wastewater treatment plant.
Another highlight in the appropriations measure is an additional $5 Million for the Bureau of Indian Affairs to improve the federal response in the cases of missing, trafficked, and murdered indigenous women and girls.
There's $25 Million to make infrastructure improvements for Alaska Native health care.
There's $26.3 Million for the Alaska Land Conveyance Program in order to fulfill legal requirements to transfer lands to the state and Alaska Natives under terms of the Alaska Native Claims Settlement Act. That funding will also help with the implementation of the Alaska Native Vietnam Era Veterans Land Allotment program.