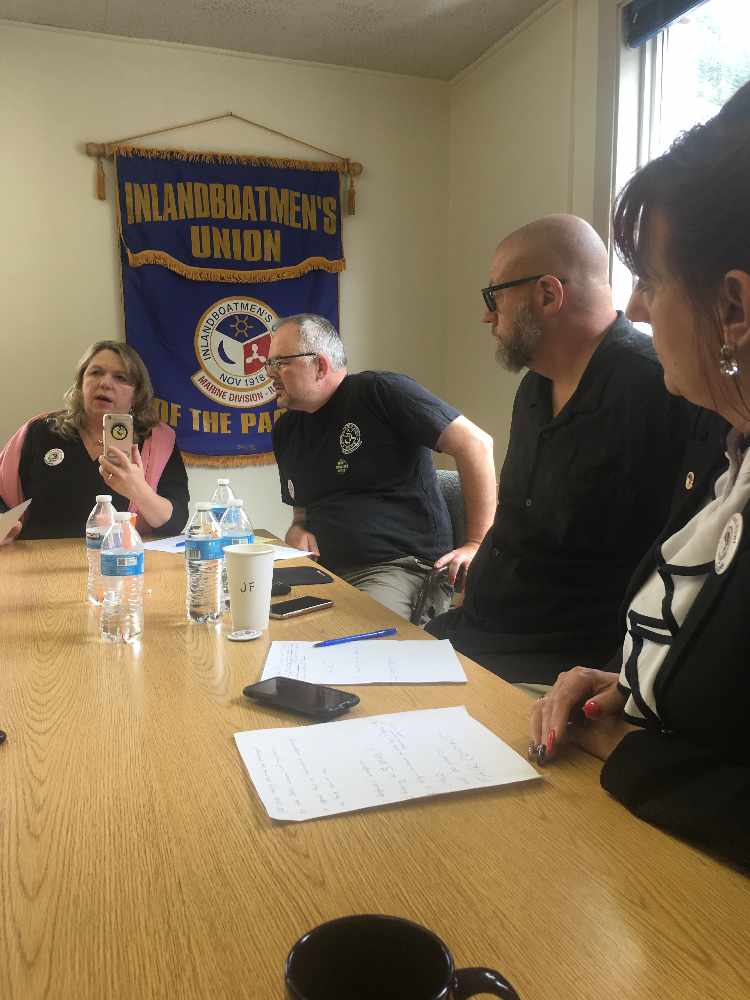 Photo credit to Charles Murphy.
Juneau, Alaska (KINY) - Union officials met the press two hours before they decide whether members will strike.
A union representing hundreds of ferry workers on the Alaska Marine Highway System threatened to strike after failing to agree on contract terms with state negotiators.
Alaska's Inlandboatmen's Union of the Pacific said 86% of its workers voted against terms proposed by the administration of Gov. Mike Dunleavy after 38 meetings between the two sides, Anchorage television station KTUU reported.
The union demanded a 9% pay increase over the next three years and rejected a 5% increase over three years, the Alaska Department of Administration said Tuesday.
The department said the union had rejected "numerous fair and fiscally responsible contract offers."
Among other things, the union demanded health care benefits with no contributions from employees, department negotiators said.
Union officials said members have gone five years without a raise.
They said the state offered one-year contracts instead of "more efficient" three-year pacts and sought mandatory overtime instead of agreeing to hire more workers.
Union spokesman Robb Arnold said his side's counter-proposal was reasonable.
"I think we've bent over backward," he said, adding that he does not anticipate a deal without a restoration of ferry funding that's been cut by the Legislature.
The union, in a release late Tuesday, said barring a settlement, a strike could come as early as Wednesday.
The union represents about 430 workers. It's one of three unions that operate ferries mostly serving communities unconnected to the road system, primarily in southeast Alaska.
State ferries move cars, people and cargo to Gulf of Alaska communities such as Cordova and Kodiak and ports along the Aleutian Islands.
Two other ferry unions, the Masters, Mates and Pilots and the Marine Engineer Beneficial Association, are affiliated with AFL-CIO and have negotiated one-year contract extensions.
Alaska AFL-CIO President Vince Beltrami opposes a strike, which would shut down the ferry system.
"If it ties up the ferries, we fear that Gov. Dunleavy will use it as an opportunity to blame the shutdown on the unions, when it has been the policies of the governor that have gotten us into this place," he said.
John MacKinnon, the commissioner of the Alaska Department of Transportation and Public Facilities, emphasized the economic importance of ferries in summer and their impact on residents, visitors and commerce.
"This is the busiest time of year for the Alaska Marine Highway System," he said.
The last strike was in 1977.