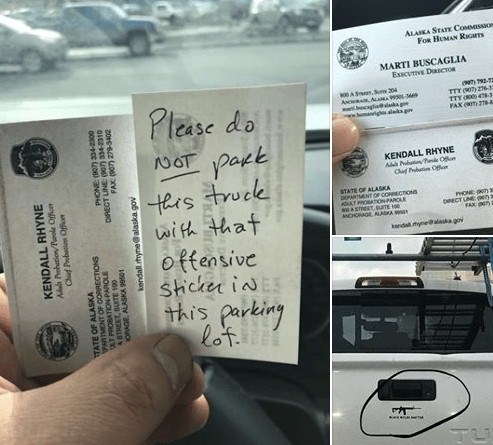 Juneau, Alaska (AP) - The executive director of the state human rights commission has been suspended for 15 working days without pay.
Marti Buscaglia was suspended for complaining on social media about a "Black Rifles Matter" sticker on a vehicle in the building's parking lot she believed to be racist.
Commissioners on Friday voted 5-2 to suspend Buscaglia, who must also send an apology letter to the truck's owner, Brent Linegar.
Buscaglia last month saw the sticker on the vehicle and posted a photo of it on the commission's Facebook page asking, "In what world is this OK?" She later removed the post, writing on Facebook that it offended gun owners.
Gov. Mike Dunleavy asked for an investigation, and the completed report was sent to the commission.
Last week, fifteen House members requested a copy of the Attorney General's investigation into the matter.
"To say that we have concerns with a government official using his or her position to intentionally suppress the constitutional rights of a citizen, multiple times, would be an understatement," said Rep. Lance Pruitt (R-Anchorage). "If this really did happen the way that it was reported by the media to have happened, and we find out about it in the course of our investigation, I can guarantee you that the Commission will be held accountable for allowing this sort of person to remain in power."
House members have also requested copies of all communications between the staff and board members of the Commission.
"We need to know if this is an isolated incident where just one person was involved, or if this is indicative of a pattern of abuse within the organization" added Rep. Pruitt. "Should the latter be the case, I expect the House will ask some serious questions about whether or not our human rights organization has been suppressing human rights."
Buscaglia declined to comment. Linegar didn't immediately return a message.