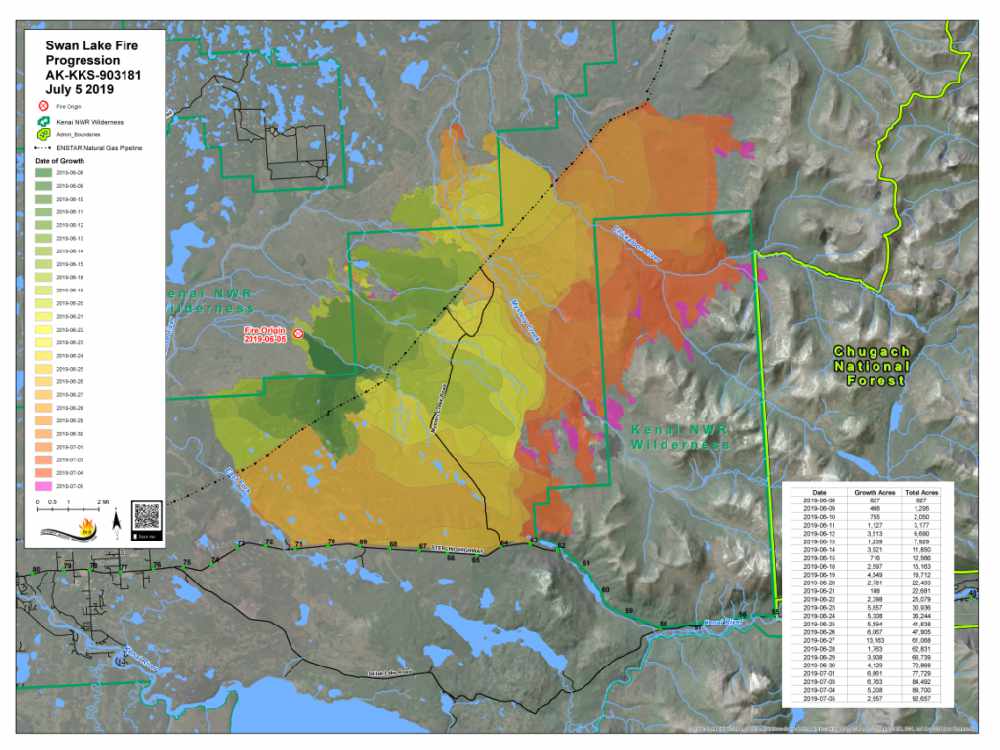 Kenai, Alaska (KINY) - The Swan Lake fire grew roughly 3,000 acres in one day. It is now estimated at 95,047 acres with roughly 409 crew members and remains at 14 percent containment. The fire continues to be active and is pushing towards the east as temperatures climb into the 90s.
According to radio station KSRM in Kenai, as of Saturday, the fire has spread to the Upper Jean Lake area and is threatening Skyline. The Fuller Lakes Trail, within the Kenai National Wildlife Refuge, is now closed as fire personnel begin assessing the area for potential future operations should the fire continue moving to the east.
Jonathan Ashford with the State Division of Forestry: "Helicopters will continue to provide water drops in the southeast corner of the fire to slow spread toward the Upper Jean Lake area. Crews will be assessing and developing a plan for fire containment in the Jean Lake area and along the Sterling Highway near the Skyline Trail as the fire continues to spread in that direction."
In addition, due to concern for public health and safety related to the fire, the Chugach National Forest is ordering special closures on the Seward Ranger District of the following areas; All National Forest Lands west of Resurrection Pass Trail from the Resurrection Creek Gold Panning Area to Devils Pass Trail and all NFS lands south of Devils Pass Trail west of Seward Highway and north of the Sterling Highway.
The State of Alaska Division of Forestry has raised the fire danger level in our area to Extreme. When the fire danger is "extreme", fires of all types start quickly and burn intensely. All fires are potentially serious and can spread very quickly with intense burning.
In a release from the Division of Forestry, small fires become big fires much faster than at the "very high" level. Spot fires are probable, with long-distance spotting likely. These fires are very difficult to fight and may become very dangerous and often last for several days.
The National Weather Service issued a Dense Smoke Advisory for the interior Kenai Peninsula that includes the Sterling Highway corridor from Sterling to Cooper Landing.
According to the National Weather Service advises people with respiratory problems avoid outside activities.