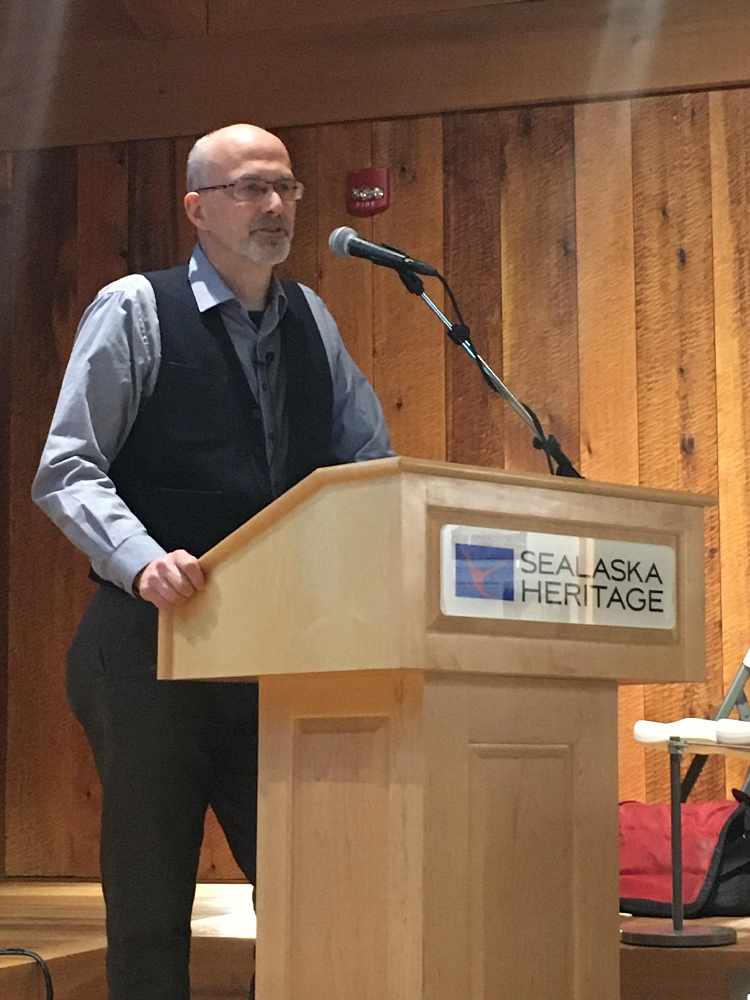 Dr. Thomas Thornton.
Juneau, Alaska (KINY) - Dr. Thomas Thornton presented Herring Egg distribution in Alaska: Generosity, Reciprocity, and Benefit Flows for the final lecture as part of Sealaska Heritage Institutes Native American Heritage Month speaker series.
Dr. Thornton is Dean of the Schools of Arts and Sciences at UAS.
On December 6, Thornton will release a book on Sitka herring eggs with a signing planned at Sealaska.
Thornton went into the history, the financial issues and the cultural issues involved with the emotional issue of herring eggs.
He explained the Alaska constitution encourages the development of its resources by making them available for maximum use consistent with the public interest.
He added that subsistence uses are essential to native physical, economic, traditional and cultural existence.
State law states customary and traditional uses of fish and game must provide for those uses first before providing for commercial or recreational uses.
He noted there has been no full restoration of Alaska native hunting and fishing rights.
On average 87% of Sitka Sound herring eggs harvested are distributed through sharing, barter and trade.
There is a priority for subsistence. There are timing problems between subsistence priority and commercial harvest.
Up to 20,000 tons of Sac roe herring are harvested in Sitka Sound by 50 permitted seine boats each spring.
Processors remove and grade egg skeins from the female and ship them to Japan where they are sold as the delicacy, Kozunoko.
While it remains a very lucrative market the demand in Japan has declined in recent years.
By-products exported to Asia for processing into fish food including pet food, farmed salmon, fertilizer and other low end products.
There has been controversy over commercial harvest versus subsistence since at least 1882. Native communities back then began to protest the practice. Herring catches have declined due to overfishing.

Sitka Tribe sued State over the 2019 sac roe fishery. Similar actions have been taken by Canadian First Nations in Canada. The legal issues include ecosystem impacts and the infringement on aboriginal rights.
He explained Sitka Sound is the Meca for subsistence and commercial fishing.
The question is who has priority and can we make sure subsistence needs are taken care of under the law.
The lawsuit is proceeding in January.

Before the commercial herring sac roe fishery, the Sitka Tlingit engaged in herring fishing from small rowboats, and prior to that canoes. The herring caught were raked or netted and used to make herring oil. Herring eggs were taken and dried in the trees among the islands around Sitka. All the small islands have names and were used together with all the other families in the Sitka area.
Herman Kitka, Sr said the annual egg gathering was the last week of March and the first two weeks in April, mostly under our uncle's direction for each family group. Today rather than three to four weeks of spawning it may be three days or less. It is hard to guess the harvest time, especially for those coming out of town.

Thornton reported Natives have told him the herring population now is just a drop compared to what it used to be. 92-year-old fishermen in 2008 remembered he went through schools and schools of herring in his young days all the way from Alaska down to Washington and Oregon.
Certain areas are now closed around Juneau, Seymour Canal, Hoonah Tenakee Inlet, Sitka sound, Craig, Klawock to herring fishing,
Thornton said there is not enough opportunity for subsistence. The Alaska Board of fisheries harvest number is quite dubious and probably won't stand up to legal scrutiny. The harvest in recent years was between 136,000 to 227,000 pounds. This is based on data since the 2001 harvest and after major herring declines.

New technology helps to harvest herring like motorized boats. It can be preserved longer in freezers and distributed through air freight,
He noted herring egg distribution and collection requires money, many will not ask for cash but may accept it as a gift.
The eggs are used at potlatches, household feasts, and communal events. Not many eat herring eggs on their own. It is often found in herring egg salads.
It was not a good harvest yield in 2018. There is a wide distribution network. 40 % distributed within Sitka and 60% outside of Sitka. In Southeast Alaska between 5,000-10,000 people receive herring eggs.

41 communities or regions received herring eggs from Sitka sound from 2010-2018. Thornton said the distribution of herring eggs is an age old system that is complex, adaptive and resilient. It is remarkable for its generosity, reciprocity and resilience.
Sitka Sound subsistence herring distribution is self managed for maximum sustainable benefit. Delivering eggs to thousands of people in dozens of communities, stimulating social capital exchange and has important social and cultural values.
He encouraged the state to consider a shift in fishery management to save the herring fishery.