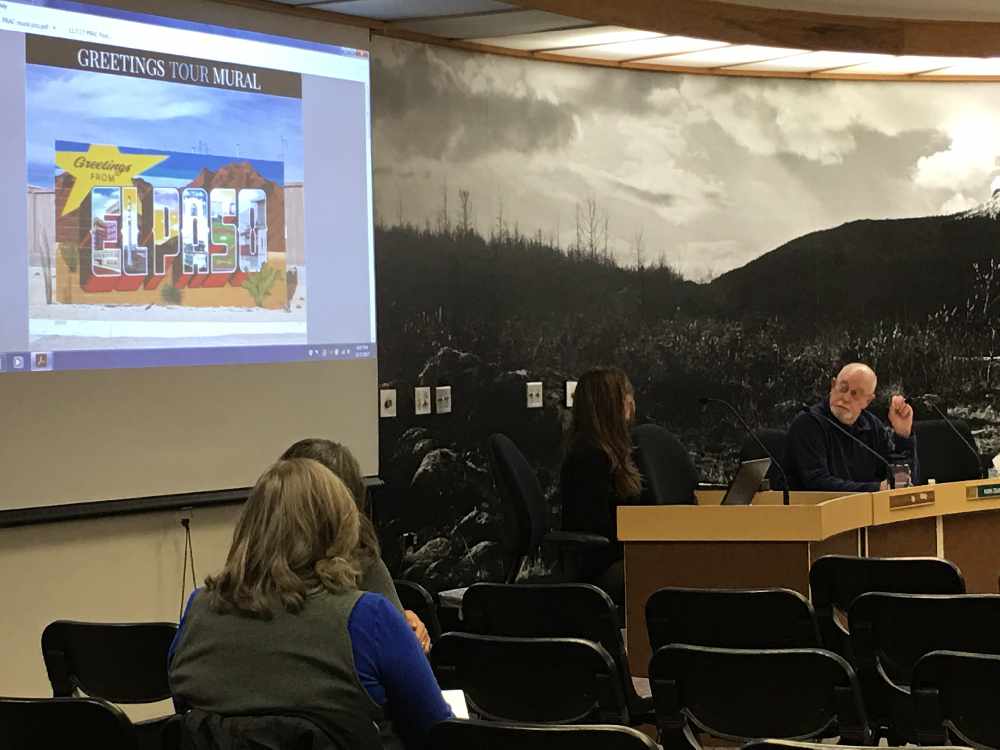 Juneau, AK (KINY) - The Greetings Tour Mural concept was brought before the Parks and Recreations Committee on Tuesday night.
The project is seeking to put a post-card-esque mural on the south side of the Marine Parking Garage through a group that has painted murals in all but two of the fifty states. The project is looking to pull in local artists to help design the piece.
Dana Herndon, of the Juneau Economic Development Council, gave the presentation and encourages the public to be involved with the process.
"We definitely welcome community input throughout this entire process. Since we have permission to move forward, we encourage people's collaboration and input more so now than before. We absolutely encourage the the public to get involved with this process. We still have to define what exactly the mural will entail and what Juneau themes will be represented. We do encourage people to be part of this committee, but because this mural is comprised of various organizations, each organization will do their part to spread the word and encourage people to get feedback."
Chris Mertl, the Chair of the Parks and Rec Advisory Committee, also is looking to include local artists.
"We heard from members that there is a general consensus to support art celebrating our culture and history in downtown. There's a desire to make sure we include local artists and tell our stories, but I think that from what we also heard from the DBA and their proposal is that there would be that collaboration of local artist being involved in the project. So, as we heard, it did pass tonight that we do support this project and that it now gets to move forward on to the Assembly."
Mertl sees murals as a way to celebrate Juneau's identity.
"My personal feeling is that the more opportunities we have to celebrate our cultural history through art, through music, or any other avenues, I think are great opportunities for the community. Art and murals are one of those avenues, one of those mediums, that we can use to really help celebrate who we are."
He also said that he fully supports having more public art in the downtown area
"We have a lot great artists in this town and I think there is a lot of great opportunities; I would love to see more proposals. As we also heard in our motion, there's the desire to have the City and Borough move forward with coming up with a mural ordinance, so instead of dealing with these one at a time can we set up a process, so that we can have morals developed in our communities. Those are all great ideas. So yeah, I'd love to see more art and more murals in downtown Juneau."
The mural project is looking to be funded through fundraising. Local artists that want to be involved in the process are encouraged to contact Dana Herndon.
The motion passed was to continue the process of this project by taking it to the Assembly for further discussion, while also recommending that the Assembly create an ordinance specifically for public art.