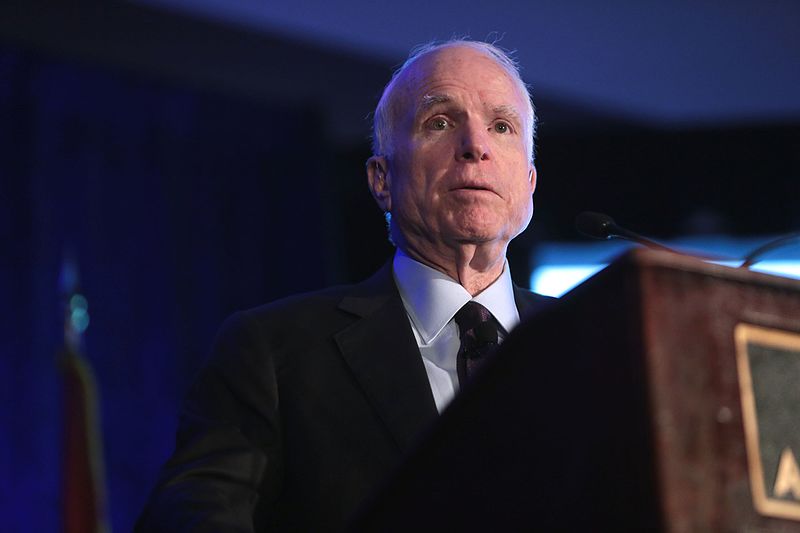 U.S. Senator John McCain speaking at the 2016 Arizona Manufacturing Summit at the Arizona Biltmore in Phoenix, Arizona. Photo by Gage Skidmore courtesy of Wikimedia Commons.
Juneau, AK (KINY) - Governor Walker has ordered that Alaska and US flags be lowered in honor of Senator John McCain, who passed away on Saturday.
The Senator was 81-years-old and he succumbed to an aggressive brain cancer. A farewell statement written by McCain was read in Phoenix by a former campaign manager. He was known for his incredible successes and brutal tribulations while in the military. Of more recent history, McCain ran as the Republican nominee to be the president of the United States, where he lost to Barack Obama.
Walker issued a statement as a press release:
"Donna and I are deeply saddened by Senator John McCain's passing," Governor Walker said. "We respect that his actions were guided by what he believed was best for the people he represents, rather than what would advance his personal political goals. One great example of Senator McCain's willingness to put his country ahead of politics happened last year when he was one of three Republicans – alongside Senator Lisa Murkowski – who voted to protect health coverage for countless working Americans, including more than 40,000 people here in Alaska."
Flags should be lowered to half-staff for Monday, August 27th and return to full-staff at sunset on Friday, August 31st.