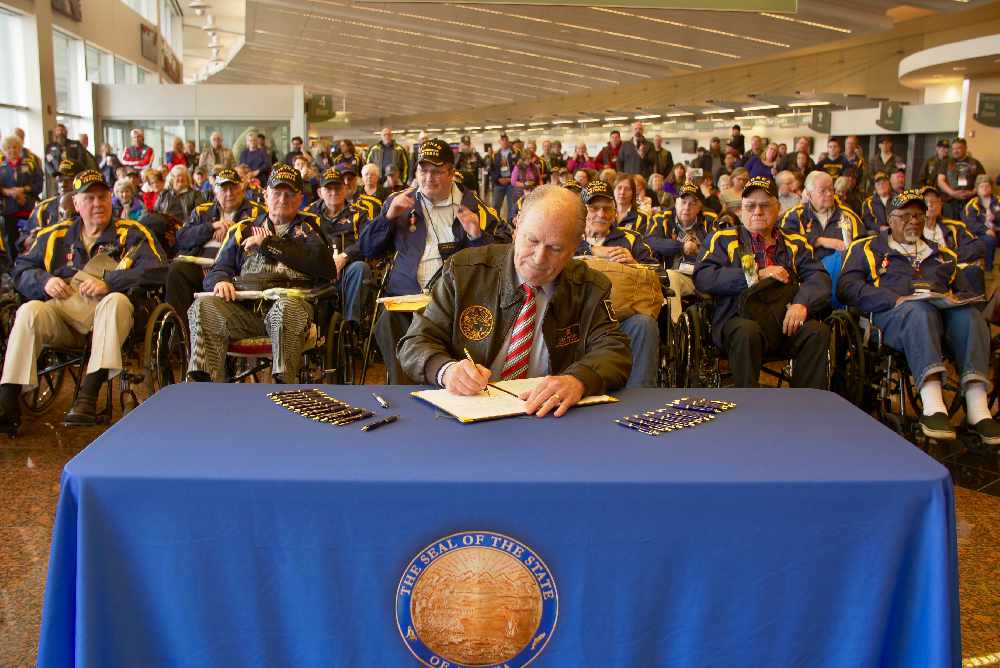 Gov. Walker signs the memorandum at a ceremony in Anchorage
Anchorage, Alaska (KINY) Governor Bill Walker signed Administrative Order No. 293 to memorialize Alaska's military heritage and explore the creation of an Alaska Military History Museum.
Veterans from the Last Frontier Honor Flight looked on as the Governor created an 11 member Task Force to research and coordinate similar efforts, inventory artifacts, collect oral histories, research funding, and propose possible sites.
Alaska has a rich and complicated relationship with the U.S. military. Since 1867, when Russia turned over the territory of Alaska to the U.S. Navy, to the Alaska Territorial Guard, who patrolled the Western edge of the state by kayak during WWII, to our modern-day missile interceptor at Fort Greely, understanding the military's role in Alaska is key to understanding not just Alaska's history, but its future as a strategic geo-political location.
Major components of that history currently go unrecognized. The internment of Alaska Native people in Southeast Alaska during WWII. The role African-American soldiers played in the building of the Alcan, referred to as the "Road to Integration" in the Army. The Aleutian Islands' role as the only part of North America to endure prolonged enemy occupation by Japan during World War II.
Alaska has more veterans per capita than any other state in the country, and Alaska Native people serve the armed forces in higher proportions than any other demographic. It is important to recognize this history, and honor those who sacrifice, those who continue to serve, and those who will serve the future.
Members of the Alaska Military History Museum Advisory Task Force will be appointed by the Governor. Recruitment may include veterans, veteran organizations, educators, military historians, and enthusiasts, as well as museum professionals and archivists. They Task Force will provide their first report on October 1, 2018, with the final assessment in June 2020.