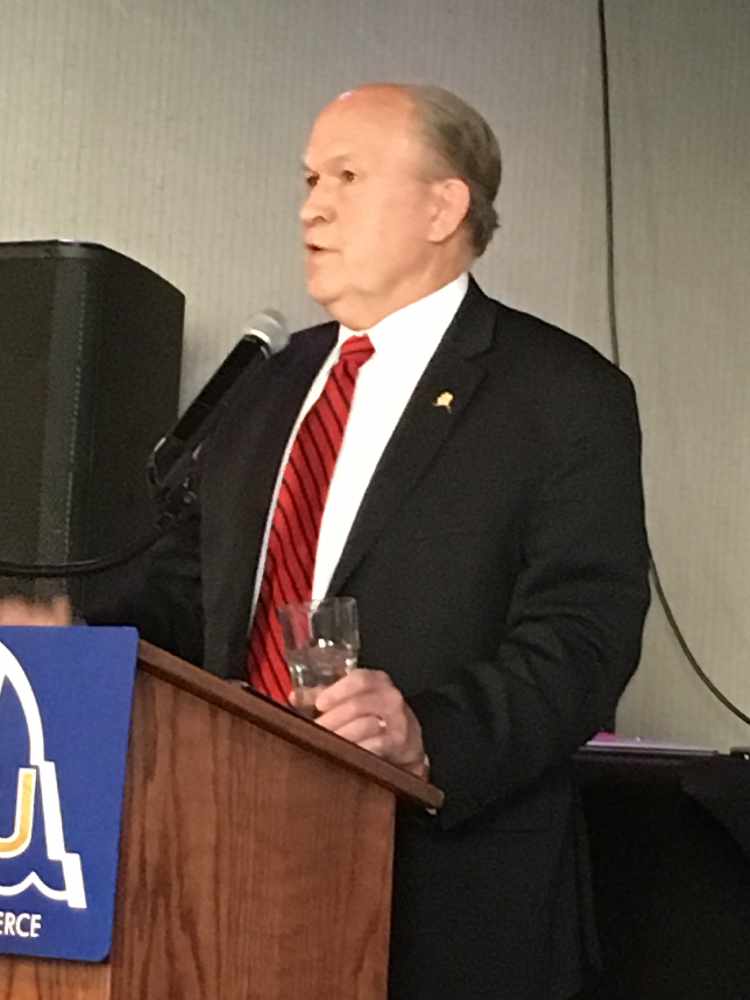 Gov. Walker thanked the Chamber for supporting his plan to use the PFD to help balance the budget
Juneau, Alaska (KINY) Governor Bill Walkespoke on the economy, business recruitment, the state fiscal plan, and other issues important to business during a 40 minute speech to the Greater Juneau Chamber of Commerce.
Walker said he thinks Alaska is headed for a growth spurt and he expects the economy to recover. He gave an update to the group on negotiations with China on a natural gas and resources agreement that could last 100 years. He continues to welcome Chinese delegations to the state with a group here in Juneau today. He said he feels Alaska has a great future, "I feel a lot of momentum. Any state that has $5 trillion in assets, has a great future. We just have to get after it a little differently."
Gov. Walker said he is not concerned with recent opinion polls that place his approval rating at 42 percent, "I don't make decisions based on approval ratings. I make decisions based on what is best for Alaska and whats the right thing to do."
He also said during a recent physical he was given a clean bill of health, "I'm a cancer survivor. That is all behind me. All my tests results have come out exactly the way I wanted them to and I feel very good about that."
Walker also spoke about his proposed payroll tax. He said it will pay for various infrastructure projects around the state. Three are included in Juneau. They include a renovation of the Pioneers Home, some road work along Egan Drive, and a new roof at the Auke Bay Ferry Terminal.
Walker also urged more investment firms who handle Alaska's permanent fund to have offices here in Juneau. He also proclaimed February as Teen Dating Awareness Month in the state and confirmed his commitment to keep Juneau as the state capital.