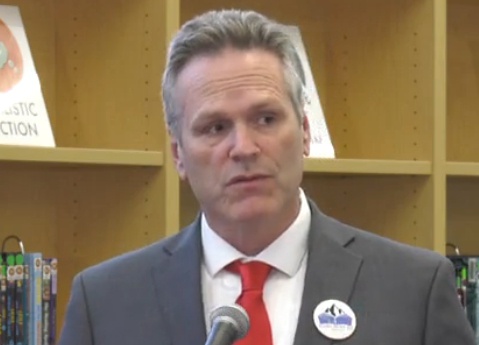 Gov. Mike Dunleavy at Turnagain Elementary School on Jan. 15.
Anchorage, Alaska (KINY) - Governor Mike Dunleavy held a press conference Wednesday at Turnagain Elementary School unveiling the Alaska Reads Act.
The Alaska Reads Act is focused on enhancing interventions for struggling readers and offering targeted school-improvement in the state's lowest-performing schools. The legislation creates a comprehensive statewide K-3 reading program designed to improve reading outcomes.
"For the second year in a row, Alaska's students ranked last out of all 50 states in grade four reading performance. In 2019, only 37 percent of Alaska's grade three students were proficient in reading on the statewide summative assessment. Alaska is facing a reading crisis and we must insist on better educational outcomes for our children. Today marks a concerted effort, with bipartisan support, to provide our children with the best possible education by offering every opportunity to succeed in reading – a fundamental building block in every child's education," said Gov. Dunleavy. "As a former teacher, principal, and superintendent, I have seen the many ways in which our schools shape our children's lives, as well as the challenges our educators face. Alaska has bright spots and high performing schools, but there are also areas that need improvement — specifically reading. Our delivery of education services must be improved to ensure bright futures for all of Alaska's children, and reading is the cornerstone."
"By working together, Governor Dunleavy and Senator Begich have demonstrated that the importance of reading transcends political party. I am grateful for the character and dedication they have invested on behalf of Alaska's students," said Alaska Education Commissioner Dr. Michael Johnson. "Ensuring students read proficiently by the end of third grade was identified as a top priority by the State Board of Education and Alaskan stakeholders in Alaska's Education Challenge. The Alaska Reads Acts translates that priority into policy. I look forward to working with all Alaskans, including our dedicated educators, to effectively implement the Alaska Reads Act."
"The Governor and I have been working together to craft legislation that will provide our youngest Alaskans with an opportunity to succeed. We are still working on some provisions of the bill, but I believe that together we can develop a comprehensive early learning and reading policy that supports kids, and moves Alaska forward. Strong, quality, voluntary, universal pre-K with support through effective reading instruction in later grades is critical for Alaska's youth." said Senator Tom Begich (D-Anchorage). "Some things are more important than our political differences, and the ability to educate our children is one of those things."
"This is a moral imperative for all Alaskans regardless of politics," said Governor Dunleavy.
Results from the 2017 and 2019 National Assessment of Educational Progress rank Alaska as the lowest-performing state in grade four reading, with only 25 percent of students performing at or above the proficient level in 2019. Alaska scored below the national average in grade four reading on NAEP for every year the test was administered since 2003. The Performance Evaluation for Alaska's Schools, Alaska's summative assessment further showed that over 60 percent of grade three students scored below or far below proficient in English language arts between 2017 and 2019.