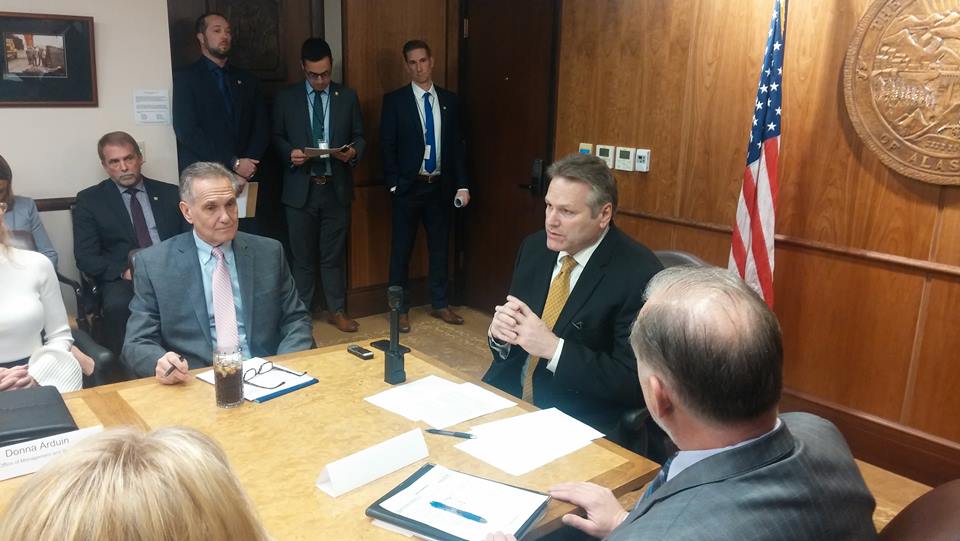 Gov. Michael J. Dunleavy opens his cabinet meeting in Juneau on Jan. 8. (Photo by Greg Knight)
Juneau, Alaska (KINY) - Governor Michael J. Dunleavy held his third cabinet meeting on Tuesday at the Alaska State Capitol.
While he covered a variety of topics, Dunleavy told News of the North that fighting crime is close to the top of his agenda.
"We're putting together a serious package on public safety, and it's going to be a comprehensive package," Dunleavy said. "If you are a criminal, or you have the tendency to commit criminal activity, this is going to be a different Alaska starting this year ... I am going to go to great lengths to ensure that we are much safer, that Alaskans are not looking over their shoulders, and that it's the criminals that are on the run, not law-abiding Alaskans."
The governor noted that his administration was also looking to increase prison sentences for those that deal and traffic in illegal drugs.
"We are really taking a look at those that deal in drugs for a profit," Dunleavy said. "We are seriously looking at those folks that are preying upon Alaskans, and our most vulnerable, our children and our women. We're going to be tightening up those sentences for those particular crimes."
Dunleavy's team also announced that he will hold the annual State of the State address on Jan. 22 at the state capitol.