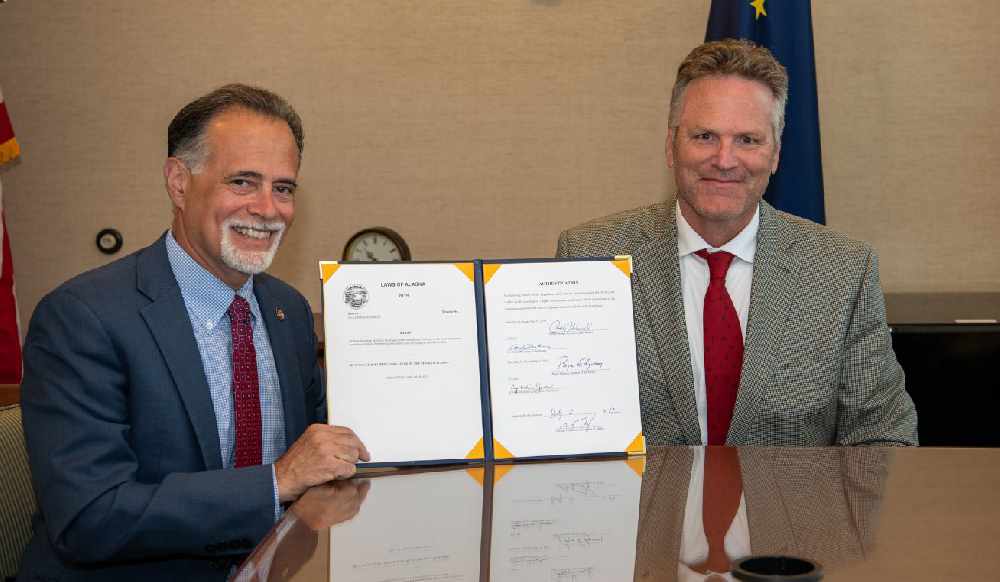 Senator Peter Micciche and Gov. Mike Dunleavy show off the signed version of SB16 on Friday.
Anchorage, Alaska (KINY) - Governor Mike Dunleavy signed Senate Bill 16 on Friday, expanding license types under Title 4 of the state's alcohol license laws.
This bill allows alcohol service in areas that had previously operated under a recreational site license before the Alcoholic Beverage Control Board denied licenses they deemed to be operating contrary to state law.
The Alaska State Fair, the Alaska Center for Performing Arts, and concerts can once again be licensed by the ABC Board.
"This bill allows local businesses and non-profits to provide service to Alaskan patrons while operating as they have for many years. Protecting small businesses that support a vibrant community plays a large role in keeping Alaska open for business," said Gov. Dunleavy. "I thank Senator Micciche and the Legislature for swift action on this issue."
"The spirit of this bill is about supporting small businesses and existing high-quality operators," said Sen. Peter Micciche, the bill's sponsor. "Part of what funds the state fair and keeps ticket prices affordable are alcohol sales, which also help fund fair entertainment and great youth organizations like 4-H. SB 16 will ensure Alaskans can continue to enjoy the state fair, as they have for nearly 40 years. This bill is part of a larger effort to modernize and reform our state's alcohol laws, but this specific issue required immediate action to assist small, responsibly-operated businesses in their continued operation."