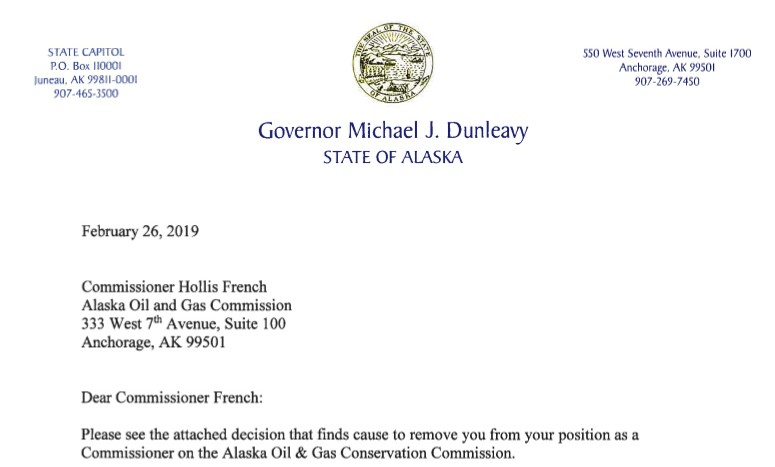 Juneau, Alaska (KINY) - Governor Michael J. Dunleavy has removed Hollis French from his position on the Alaska Oil & Gas Conservation Commission, effective immediately.
The governor sent a letter to French on Tuesday notifying him of his decision. French has 30 days to appeal.
The letter was provided to members of the media by Dunleavy spokesperson Matt Shuckerow.
A letter released previously by the administration shed light on the governor's plans to possibly relieve the former state senator as the chairman of the commission.
The letter stated that French is derelict in his duty as the chairman and has committed "neglect of duty and misconduct" while in office
Dunleavy had accused French of chronic absenteeism and states French's absences have been "unexcused."
Shuckerow confirmed the original letter was written as the basis for "the commissioner's removal from office for cause," and referred further questions to the Department of Law.
French, an attorney and onetime Cook Inlet roughneck whose term as commissioner would have run through early 2021, declined to comment. Cathy Foerster, one of two other commissioners, said the agency declined to comment.
The governor's Feb. 26 letter can be found here, and the findings against French can be found here.