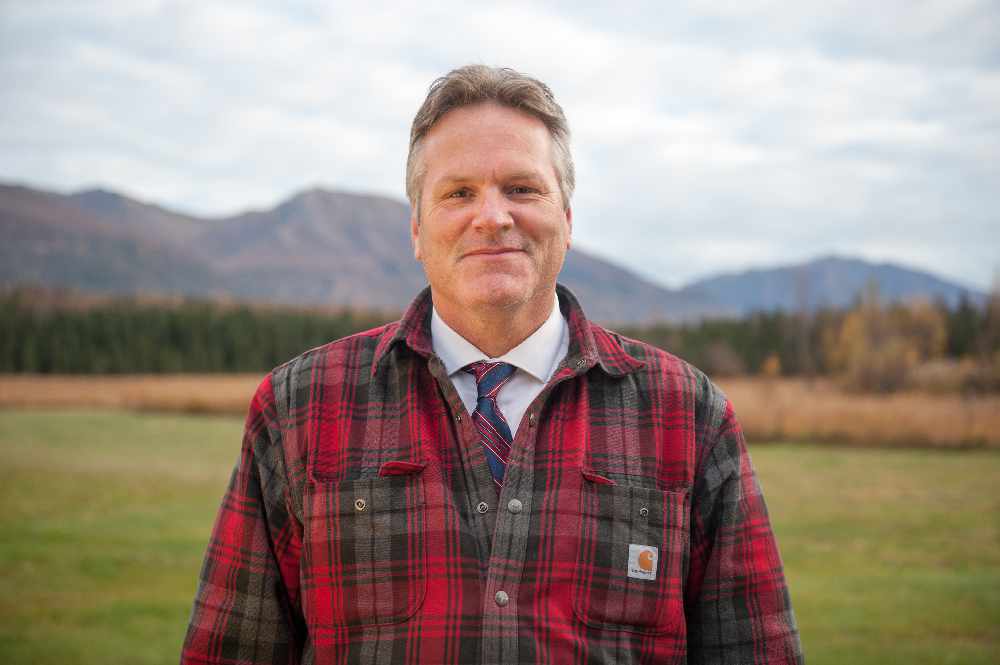 Gov. Micheal J. Dunleavy.
Juneau, Alaska (AP) - Gov. Michael J. Dunleavy questioned the potential for any deal with lawmakers if they don't act on his proposed constitutional amendments and crime bills.
Dunleavy told reporters little will have been accomplished if the session ends with limited budget cuts. He wants lawmakers to pass crime legislation and send voters proposed constitutional changes he considers cornerstones of a fiscal plan.
"If we end up with a budget in which the reductions are so minimal and we have no constitutional amendments and the crime package isn't moving to help protect Alaskans, what kind of deal can we have, I guess is the question. I mean, this does not work," he said.
The state faces a projected $1.6 billion deficit that the Republican governor proposed filling through steep cuts to areas including education, the university system, health and social service programs and the ferry system, plus use of reserve accounts and tax collection shifts that would place a greater burden on some communities.
The House on Tuesday began debating its rewrite of the state operating budget, which shunned the level of cuts Dunleavy proposed. The House is controlled by a bipartisan coalition composed largely of Democrats, though leaders of the Republican-led Senate also have pushed back against some of his proposals and indicated they want to take a more gradual approach than Dunleavy.
He has proposed a full payout to residents from the state's oil-wealth fund, the Alaska Permanent Fund. The annual dividend check has been capped the last three years amid the ongoing budget debate and a smaller check is again being weighed by lawmakers.
Dunleavy said the formula in state law for calculating the checks should be followed.
His constitutional provisions are aimed at limiting spending and giving voters a say on changes approved by lawmakers to taxes and the Alaska Permanent Fund dividend. The Legislature also would get a say on tax changes approved by voter initiative.
Dunleavy expressed openness to a less-restrictive public advisory vote on the dividend but said he thinks it would show Alaskans don't want the dividend changed without their vote.
He needs two-thirds support in both the House and Senate to get a proposed amendment on the ballot but has faced some resistance.
His office has taken to social media to urge the House to act on his constitutional and crime-related proposals while thanking the Senate for hearings it's held. The House recently passed a bill dealing with protective orders sponsored by a House member.
Lawmakers are not obligated to take up legislation just because a governor wants it: Dunleavy's predecessor, Gov. Bill Walker, repeatedly tried to get the Legislature to act on new or higher taxes, putting that on special session agendas without success. Walker also used his veto power.
Dunleavy indicated he'd be willing to flex his authorities, too.
"We can veto line items, we can veto the budget, we can call special sessions," he said of the potential that lawmakers support a smaller dividend. "We can use whatever tools we have."
He said he wants to see how the process plays out. The Senate has yet to write its version of the budget, and the House and Senate will have to reach a compromise before sending it to Dunleavy.
Lawmakers have expressed interest in a spending limit though the Legislature's top legal adviser, Megan Wallace, has said the scope of Dunleavy's proposed constitutional amendment may be too substantial for an amendment and instead qualify as a revision that a constitutional convention would need to address.
The attorney general's office disagrees with that interpretation.
The Senate Finance Committee plans Wednesday to begin reviewing ideas for changing the dividend formula and imposing a potential new spending limit. Critics consider existing spending limits in law and the constitution to be too lax. The Senate proposals deal with changes in law.