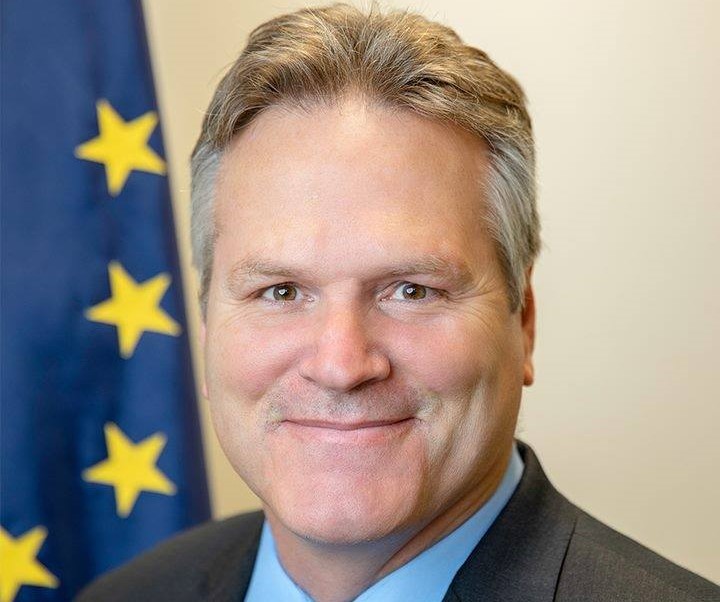 Gov. Michael J. Dunleavy.
Juneau, Alaska (KINY) - Governor Michael J. Dunleavy spoke about the budget process his administration will follow and restoration of a full dividend at his Jan. 8 cabinet meeting in Juneau.
The governor said that past administrations were on a different page than the legislature when it came to how funding Alaska's government was accomplished – and then how it was revealed to the citizens of the state.
"For too long we haven't been really upfront and honest about the budget," Dunleavy said. "The administration would issue different numbers, the [Alaska House of Representatives] would issue different numbers, the Senate would issue different numbers. Our attempt this year is to get everybody on the same page, so that Alaskans can see what numbers we are actually using, so it makes sense to them and we have a baseline to all work off of.
"Those conversations are occurring. We're going to be transparent in our budgeting, we're going to be upfront [and] Alaskans are going to know exactly why we budget the way we did, based upon the revenues. And we'll be looking to make sure that core functions that are related to the Constitution, and core services that all Alaskans use, is to the best extent possible, represented in this budget that we roll out."
Dunleavy was also very clear about where he stands on the Permanent Fund Dividend.
"You know where I stand on the PFD," Dunleavy said. "I believe the PFD is not an appropriation, it's a transfer from the Permanent Fund Corporation to the people of Alaska. How it got rolled up into the concept of an appropriation [over] the last couple of years I am not sure, but we're going to unravel that.
"We believe that the transfer is a transfer due to the people and so is the back pay due to the people. We're going to make that happen."
Dunleavy said the plan for comprehensive PFD reform will be rolled out in coming weeks.
The governor also addressed the issue of enlarging government in the state – and he vowed that his administration is looking at ways to trim it.
"We're going through the process now of looking at every detail," Dunleavy said. "We are questioning every detail to see if what we are doing in terms of services, or expenditures, if those are things that Alaskans want and need. Are they redundant? Are they archaic?
"Then again, we have to make sure that our budget expenditures are in line with our revenue. We're going to be producing a budget that is based upon $3.2 billion of revenue."
When asked by The Associated Press if some people's fears that too large a draw out of the earnings reserve to pay back-PFDs was looming, the governor was non-plussed.
"It's our intent to fully repay this, because we feel it's a transfer, not an appropriation," Dunleavy said. "We are going to follow the law. That's one thing you're going to find out about this administration is that we follow the law, so I don't think that is something you really need to worry about. The biggest issue you really need to worry about is the continual growth of the budget. We have been, for quite some time, unable to control that growth and, oftentimes, we chase expenditures with revenues. If revenues go up, we spend as much as we can. When revenues come down the expenditures don't come down correspondingly. So, that's our biggest issue. It's not the PFD."