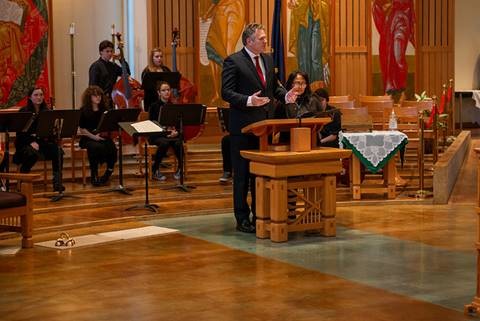 Gov. Michael J. Dunleavy.
Juneau, Alaska (KINY) - The Martin Luther King Jr. community celebration featured a proclamation from Gov. Michael J. Dunleavy on Monday at St. Paul's Catholic Church.
The theme this year was "Guardians of the dream... us."
Gov. Dunleavy said Dr. King was one of the greatest Americans and he called the "I Have a Dream" speech a watershed moment in the civil rights movement.
"He was a man for all Americans," Dunleavy said, adding that peace, equality and service should be pursued by all Alaskans.
Speakers included Michelle Monts, former President of the Black Awareness Association, Sasha Soboleff, Juneau Mayor Beth Weldon and Dr. Rosita Worl, the President of Sealaska Heritage Institute.
The Floyd Dryden 8th Grade Orchestra was one of the featured musical presentations.
Monts said Dr. King was divisive in his day even in the black community. He was considered an enemy of the state.
She said the dream must be guarded and shepherded -- and she urged people to read about the dream and embrace it.
"We all have to be a part of the destiny of this nation," Monts said.
Soboleff said Dr. King set a high standard that is hard to reach.
Dr. King was murdered in 1968 and would have been 90 this year.