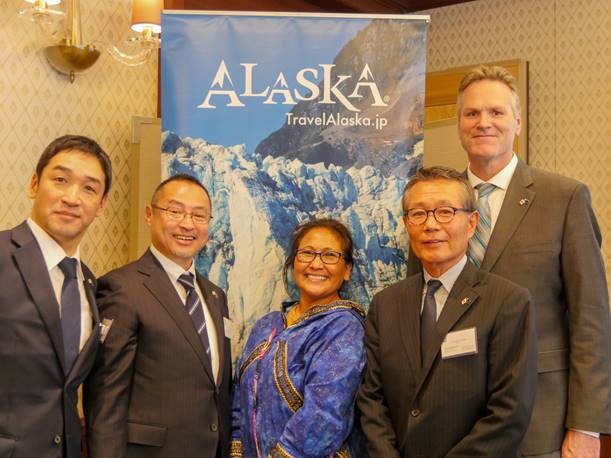 Governor Michael J. Dunleavy and First Lady Rose Dunleavy take a moment to share a photo with representatives tht attended the ASMI Seafood Luncheon that featured Alaska seafood.
Juneau, Alaska (KINY) - Governor Michael J. Dunleavy and First Lady Rose Dunleavy returned Thursday from their first trade mission to Japan dedicated to promoting Alaska's abundant natural resources.
On Tuesday, Nov. 5, Gov. Dunleavy spoke at the Alaska Seafood Marketing Institute Seafood Trade Luncheon to an audience that included representatives from the major seafood companies operating in Japan and Alaska.
"Alaska's fisheries management is the gold standard of sustainability, a model for the world over, and our healthy seafood will be available for your children and your children's children, just as it will be for our own future generations," said Governor Dunleavy. "The Alaska Seafood Industry and the State of Alaska wish to reaffirm our commitment to the Japanese market and look forward to continuing this long partnership."
The governor also pledged to work hand in hand with Alaska's congressional delegation and trade representatives in the Trump administration to exclude Alaska seafood from the next phase of tariff negotiations to ensure that Alaska seafood is competitively priced with seafood from other nations.
Eighty percent of Alaska's seafood is exported to Japan and it is our second-largest trading partner. Last year's total exports to Japan were valued at $783 million.
This month marks a chapter in the history of both Japan and Alaska. In November 1969, the first shipment of Alaska LNG from the Kenai LNG Terminal arrived at the Negishi LNG Receiving Terminal outside Tokyo. Governor Dunleavy toured the receiving terminal on Wednesday, Nov. 6 with executives from Tokyo Gas.