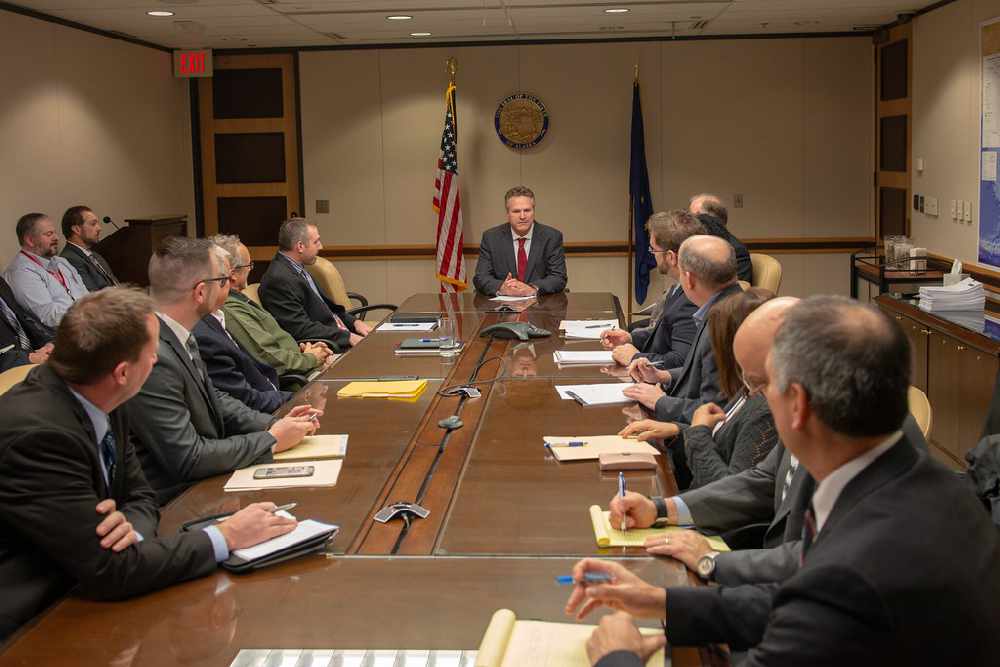 A staff meeting with Gov. Dunleavy in Anchorage.
Juneau, Alaska (KINY) - Governor Mike Dunleavy announced Wednesday an amended call of the second legislative special session, adding the capital budget and amending the location from Wasilla to Juneau.
According to spokesperson Matt Shuckerow, members of the Alaska State House and Senate, who heeded the governor's statutory call to meet in Wasilla, recently submitted a proposal to Gov. Dunleavy to amend the call in order to address the capital budget and work with all lawmakers to address outstanding items.
The proposal – dated July 15 – recognizes upcoming deadlines and the risk of losing access to critical matching funds – necessary to develop and sustain the economy, Alaskan families, and the state.
"In my daily discussions with legislators – those both in Wasilla and in Juneau – many have acknowledged that real progress needs to be made on the capital budget and that work cannot be completed until the legislature is meeting in one location," said Gov. Dunleavy. "With sensitivity to the time that remains to capture federal funds, the Legislature will be able to quickly consider the capital budget, the PFD, and conclude this work for the people of Alaska before the end of July."
On Thursday, July 18, Gov. Dunleavy will introduce a capital budget that will contain state matching funds for federal transportation programs, state matching funds for village safe water projects, funding for the new crime legislation, and other necessary fixes to a number of fund source changes that appeared in the final version of the capital budget passed by the Legislature in May.
"Timelines compel us to find a solution sooner rather than later. Concluding work on the state infrastructure budget and the PFD brings the Legislature one step closer to finishing the work of the people," said Gov. Dunleavy.
"It will take a lot of compromise among all 60 legislators and the governor to breach the current impasse," said Rep. Lance Pruitt (R-Anchorage), House Minority Leader. "I appreciate the compromise from the governor and other legislators to change the call of the session, and I'm confident we can move forward on an agreement that meets the deadlines in front of us."
"I'm encouraged that everyone has come to the table to try and find compromise," added Sen. Mia Costello (R-Anchorage). "We appreciate the Governor's quick response to our proposal, and we look forward to being with our colleagues in Juneau to wrap up the people's business."