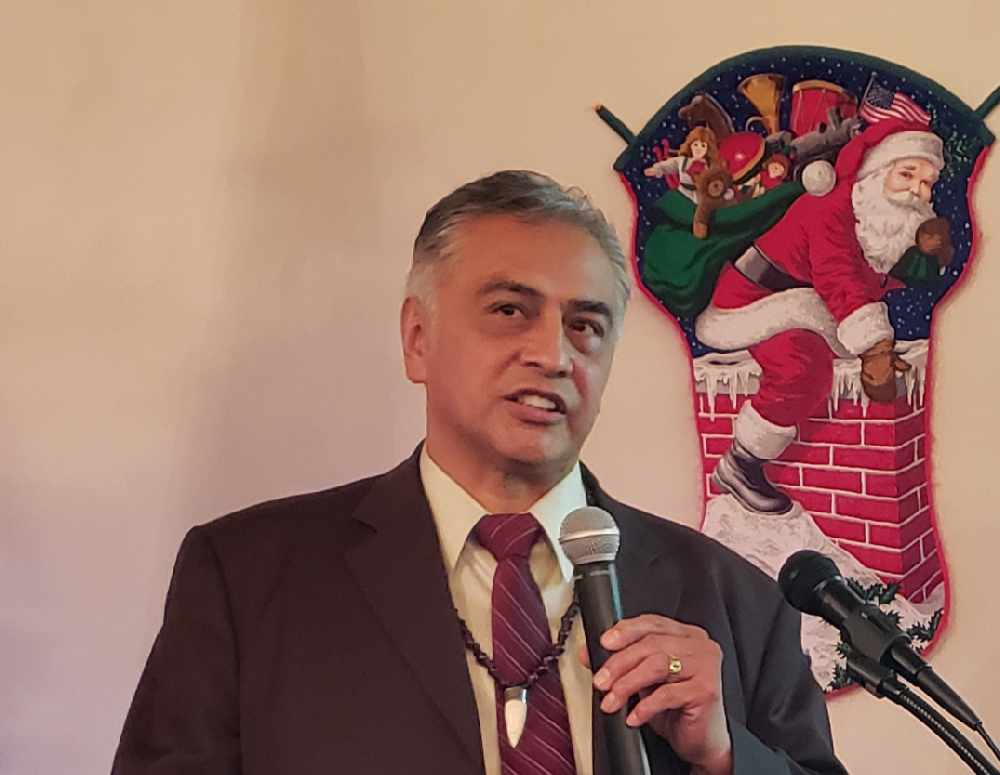 Ben Coronell
Juneau, Alaska (KINY) Chuck Wimberly, President and CEO, and Ben Coronell President of the Board for Goldbelt, were the featured speakers at the Greater Juneau Chamber of Commerce luncheon.
The speech centered on the history of Goldbelt, their commitment to Juneau and the financial success they have achieved.
Goldbelt was established in 1974. It is an urban corporation. The mission is to improve the lives of shareholders and build a strong community. They had just over 2,700 shareholders in 1974. Today they have over 3,700 shareholders.
They pay more than $1 million each year to the CBJ in taxes and fees. Their payroll in southeast Alaska is $5.3 million annually. They are the largest non-government landowner in the CBJ with 3,200 acres. They own 30,000 acres in the Petersburg Borough.

Coronell said Goldbelt faced bankruptcy in the late 1980s and 1990s. He decided to run for the board to make a difference.
A big part of Goldbelt is the Mount Roberts Tram. Vice Chairman Katherine Eldemar said the top goal is the employment of Alaskans. She said they took a chance on the tram not knowing if anyone would come. Today it has become a huge draw for tourists. They set a record for visitors this year.
"It took a lot of guts, but we are pleased to operate for profit and be successful and mostly to employ people," she added. "If we do well, we all do well, if we fail, then not so good," she added.
Eldemar said they bring the money they generate to Alaska. She said they are a big help to the economy. "We are investing in people. We want to make sure the present is successful and that the future is bright," she said.
Coronell said the tram is the second most visited place in Juneau. They expect an increase of 250,000 visitors next year. "What can we do to grow together," he asked the crowd. "What can we do to grow Juneau, not just Juneau but southeast," Coronell added.
The Corporation ranked 17th last year in the list of top Alaska businesses. They have been ranked as high as 15th.
They make several donations and contributions to Juneau. This includes a three-mile extension at Echo Cove to support increased transportation in the Juneau Access Project. Eldemar said Goldbelt is a good Corporate Citizen.
They also support classroom education and summer camp programs for the Juneau School District.

Goldbelt employs more than 1,500 people in 50 states and 14 countries. $9.85 million was distributed in shareholder benefits over the past five years.

A new vessel will be delivered in August, 2019. It is being built in Homer. The Catamaran could serve outlying islands. "It has to make sense, it must make a profit, we can't let it flounder and die out there. If it's profitable it's a win-win for other communities."

Wimberly explained Goldbelt is a for-profit corporation. Juneau is where Goldbelt was established. It remains the Corporation Headquarters. The payroll is $5.1 million just in Juneau. It is about a $37 million economic impact for Juneau. "We are a large employer for Juneau and we take that seriously," he noted.
Wimberly said a couple of times the Corporation was close to bankruptcy. Today they are a federal contracting company. They have a large footprint in Washington, DC. The 2018 budget included $1.36 million for shareholder dividends. The total shareholder benefits were just over $3 million. In 2017 the dividends were $1.09 million and the total benefits were over $2.57 million. They paid out the highest dividend in recent history in November with an average of $5.00 per share. Revenue has steadily grown from $125 million in 2010 to $249 million this year.

They also operate Goldbelt Security, Goldbelt Transportation, Goldbelt Seadrome Marina, Goldbelt CPMG, LLC, and own lands. They will add a second boat next summer and have a large presence in Goldbelt Transportation.

A current project they are pursuing is tiny houses in Juneau to provide housing for those that need it.

They recently signed up for a five-year renewal with Coeur-Kensington Mine to provide transportation.
The 34th annual reception for the Alaska Legislature will be held on January 16th at Centennial Hall from 5 to 7 pm. It is paid for completely by private business donations.
Mayor Beth Weldon will speak to the Chamber next Thursday, December 13.