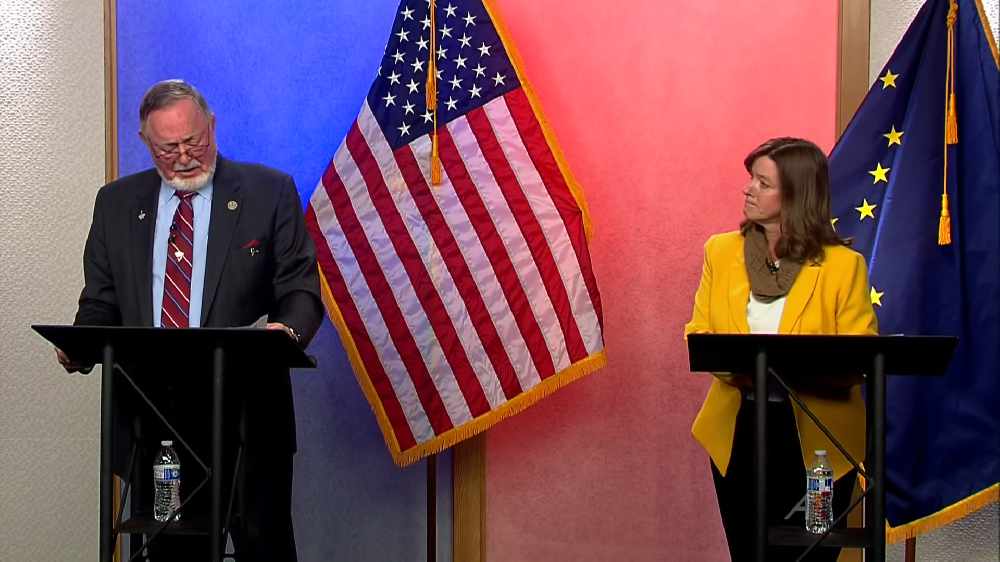 Screenshot of Don Young (right) and Alyse Galvin (left) questioning each other at the Debate for the State.
Juneau, AK (KINY) - The race between longtime incumbent Don Young, a Republican, and new independent challenger Alyse Galvin continues to heat up.
The latest debated was titled "Debate for the State" that was put on by Alaska Public Media and took place in Anchorage. It was carried by KTUU, who have the full debate available as a video on their YouTube Channel.
Towards the end of the debate, the candidates were given an opportunity to question each other. Galvin brought up Young's history of voting on items that support senior citizens like Medicaid, social security, and retirement. She asked what Young would do to support that part of the population.
"Well Alyse, it's strange you would use something like that. Here I have a picture of myself receiving an award and a prize called the Senior Citizen Thank You for Protecting Medicare and Social Security; I just received that. I am a senior citizen and I protect the seniors. I protect social security, Medicare, and Medicaid. Always have, always will. To have you say that and the media and your ads say that is just frankly a campaign.
"That's all it is."
Galvin then responded with how she has been endorsed.
"I would just say that I have been endorsed by Social Security Works and the Association to Preserve and Protect Medicare and Social Security for good reason. I think it's important to look at the floating record as a voter in Alaska and I hope that you'll do that. I think it's very important."
Young stated that Galvin has not shown support for veterans in her ad campaigns or presentations. His question was how Galvin would support veterans.
"They've. Risked. Their. Lives. For us."
"Yet, right now they struggle deeply. Even though you've been in office for 45 years, I think that there's a lot of room for us to grow when it comes to protecting vets. I happen to know already. I've met firsthand with Dr. Ballard at the Veterans Clinic and I've also met in Fairbanks with the All-Day Homeless Vets Program and it's clear to me that we have a lot of work to do to make sure that our vets have access to housing, jobs, first consideration of jobs, and the sort of mental health care that I think is absolutely necessary for each and every individual who gave up their lives for freedom."
Young pointed out his credentials when it comes to veterans.
"My record speaks for itself. I built the topline VA facilities in Alaska, under my watch. I've fought for every Veteran's Act as a veteran that's deserved in our health care programs. I've worked and raised their salaries every time, the retirees. I bought the F-35s at Fairbanks. I have funded the National Guard slots from Bush to Alaska. I got the language for the SB88 contracting set-aside. I have been and am a vet and I work with the vets."
"It just struck me that the question was, and you didn't answer it, why aren't any of your ads or any of your presentations talking about benefits for vets?"
With that point, the organizers decided to move on to the next set of questions.