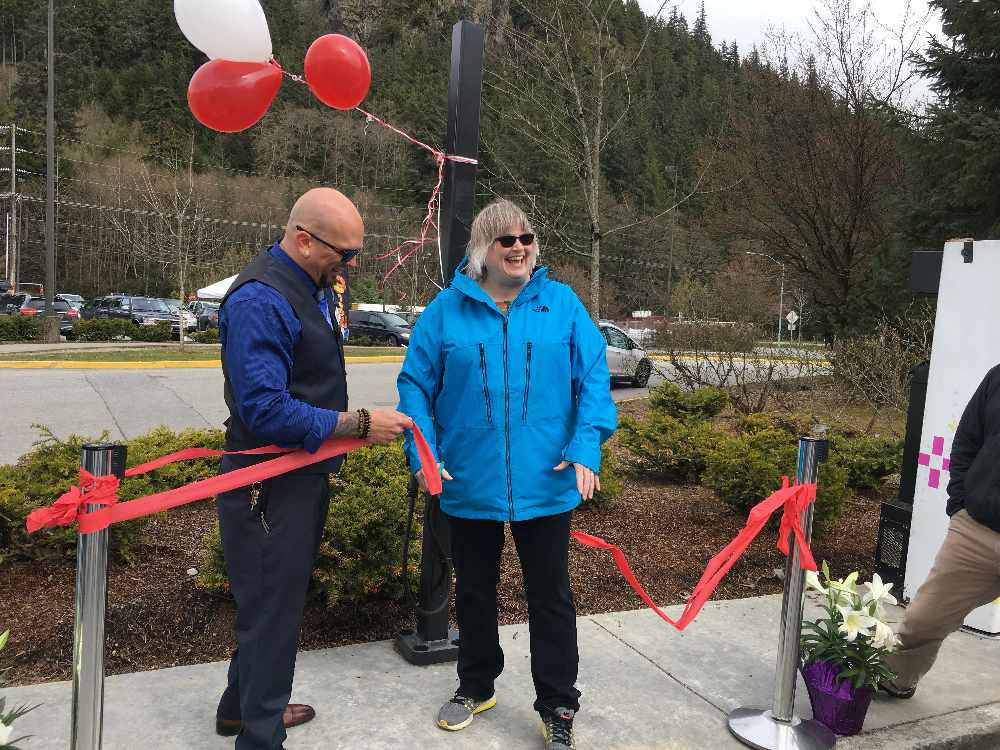 Mayor Beth Weldon and Fred Meyer Store Manager Anthoney Gurule at the ribbon cutting event
Juneau, Alaska (KINY) - CBJ Mayor Beth Weldon proclaimed April 20 as Drive Electric Earth Day during a ribbon cutting for new charging stations at Fred Meyer.
Juneau currently ranks third in the nation per capita in the number of electric vehicles in use. At last count, there were over 400 electric vehicles in Juneau.
Private donations and grants have been used to improve infrastructure around the community.
Fred Meyer cut the ribbon on four electric vehicle charging stations today. There are three, level 3 stations that are known as quick charging stations. There is also a level 2 station which charges a vehicle slower.
A national event is being held in 175 communities today to encourage electric vehicles. National earth day is scheduled for April 22.
Mayor Weldon said the CBJ is close to the purchase of an electric bus for Capital Transit. She said they continue to do all they can to encourage the use of electric vehicles. They also have helped install 12 charging stations around the borough, many of them privately owned, but used by the public.
"We have demonstrated Alaska leadership in embracing the use of electric vehicles," she added. Weldon also thanked Fred Meyer for the support they show the community.
Store Manager Anthony Gurule said these are the first electric vehicle charging stations at a store in Alaska. He said he hoped the stations will make it more convenient for his customers and attract more business to the store.