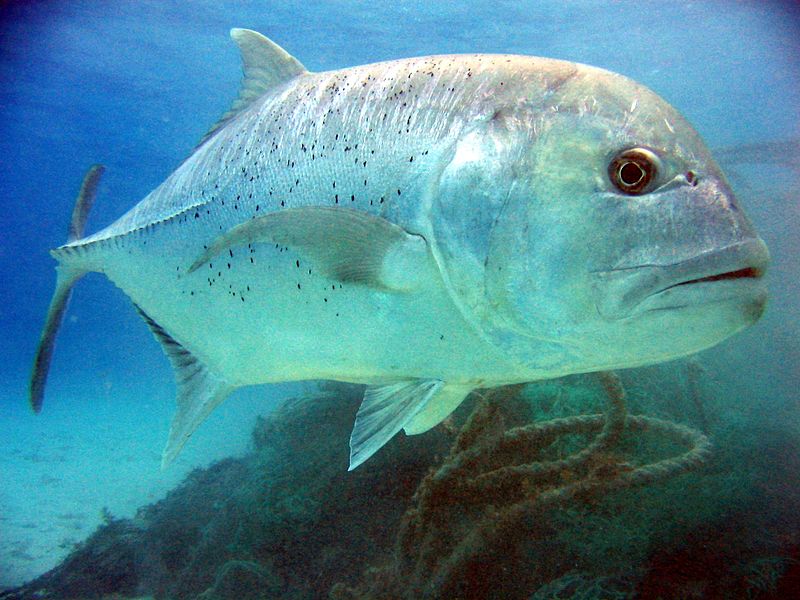 Juneau, AK (KINY) - A local fisherman recently visited Christmas Island near the equator and shared stories from his fly fishing expedition.
A presentation was given by local fisherman and fish biologist with NOAA, Jon Heifetz, who recently traveled to Christmas Island to go fly fishing, which is south of Honolulu, Hawaii close to the equator. He brought a ton of photos of the beaches, various types of fish, and some pesky birds and then shared the experience with other excited fishermen and travelers at a meeting at the Thunder Mountain High School.
Some of the fish Heifetz and his son were able to catch on that adventure included Bone Fish, Trigger Fish, Milk Fish, and some Yellow Snapper. Mostly, those fishing on the island were most eager to catch the various breeds of Trevally, which come in the Bluefin, Giant, and Golden variety. While the wind can often cause some problems, Heifetz said that he rather enjoyed his fly fishing expedition.
Heifetz shared his favorite memory from the trip with us.
"My favorite memory is actually hooking those trigger fish; they were the most challenging. It was a bone fishing trip and Bonefish or pound-for-pound the strongest fish around, they will take you down to your back really quickly, even a 15 inch one, but the trigger fish are really smart, they follow your fly, and are a really cool looking fish."
For those interested in the hobby, Heifetz says there are local ways to get into fly fishing.
"If you want to learn fly fishing the first thing you need to do is learn how to cast which is critical and my suggestion would be to take some casting classes. The fly shop in town, Alaska Fly Fishing Goods, Brad Elfers is your best connection for that."
"Also Trout Unlimited, our local chapter here in Juneau, we run free casting clinics every spring out at Twin Lakes, so that's another place to learn. We bring rods out there and have a lot of fun."
It's less about actually catching the fish and more about enjoying nature.
"You're fishing a lot more for fun than trying to fill the freezer. For me it's getting into the environment, catching fish. A lot of fly fishermen will even release their fish and tie their own flies."
Heifetz says many Alaskans are adventure seekers through travel or other activities.
"A lot of Alaskans like me in the winter time get a little cabin fever, even though I like skiing and all that. I brought up a couple of kids in this town and they are world travelers. Even with their sports teams they were traveling all over the place even in state."
"I think it's just the adventurous spirit and people around here generally feel real comfortable going to different places."
Those interested in fly fishing may want to mark their calendars for next Friday. There will be a fly fishing film festival that will be held at the Rockwell Ballroom on March 9th.
Tickets will also be available for purchase at Alaska Fly Fishing Goods. If available, tickets can also be at the door on the day of the event for $15.
For more information, please contact event organizer at info@flyfilmfest.com or locally at Kayla@alaskaflyfishinggoods.com