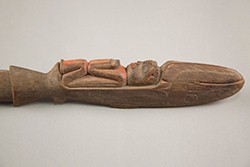 Juneau, AK (KINY) - The Sealaska Heritage Institute is commissioning a replica of a fish trap stake that was collected in Wrangell in the early 1900s and was later added to the museum's collection.
The stake depicts an ancient Tlingit story, known as Aak'wtaatseen ("Alive in the Eddy" in Tlingit), and will be carved by master Tsimshian artist David A. Boxley. The piece will be featured in the institute's new exhibit, Aan Yátx'u Sáani ("People of the Land" in Tlingit), which scheduled to open on May 1st.
The stake is thought to have been made of spruce and was part of an old fish trap found on the Stikine River. Experts believe that the stake was meant to show respect to the salmon and draw them in. The new replica will be made from red cedar.
The exhibit will feature indigenous inventions, such as fish traps and halibut hooks, tools that were essential to survival. The story carved into the stake will also be crafted into an animated version that is based on the illustrations of Michaela Goade from a Baby Raven Reads publication that was released in 2017. That book was titled Shanyaak'utlaax, Salmon Boy, and is available online and at the Sealaska Heritage Store.