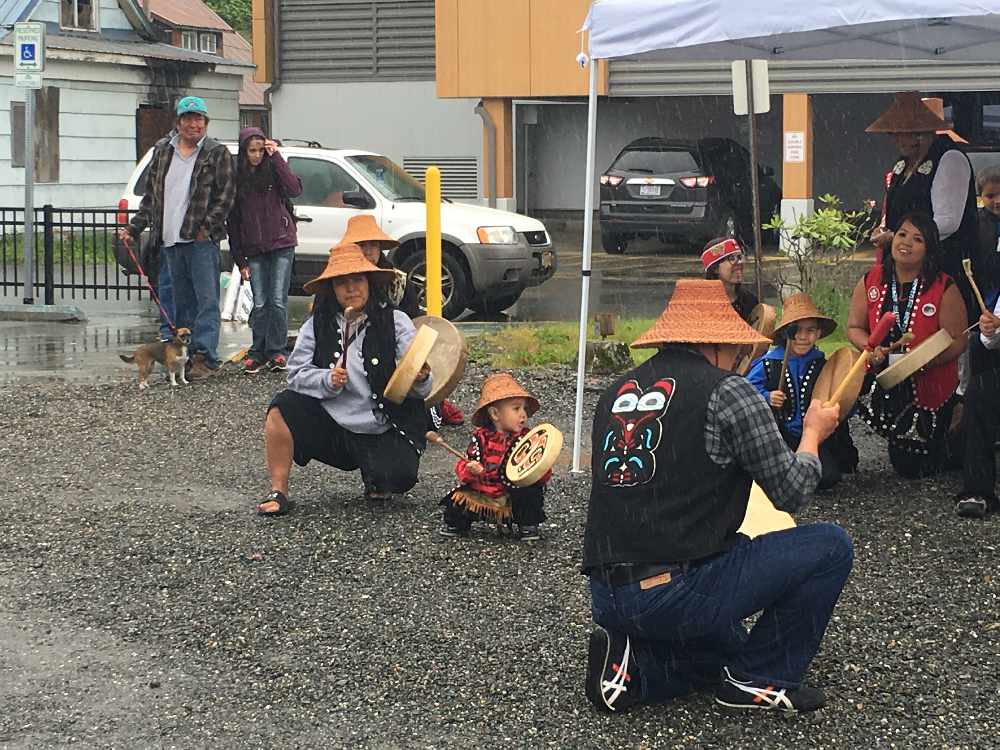 Juneau, AK (KINY) - An Alaska Native Marketplace was held in the Elizabeth Peratrovich Hall lot where crafts, food, and culture were given a space to thrive.
Even with the rain, people were eager to check out the unique wares and the dancing and drumming didn't miss a beat from the weather.
We chatted with several vendors like Flo Kenney, who was selling her Caribou Leaves Salve that she harvests in the Arctic Circle. This salve is known to ease aches and pains and she tells us that she has customers all over the world, despite the fact that she only sells in person or through the mail and not online. We also talked with a woman who was selling sea otter and mink fur jewelry. We learned from her all about the value that sea otter furs has, especially with the Russians many years ago who could find themselves very wealthy by trading for these furs. The amount of hairs per square inch makes the sea otter the softest fur in the world and something that can only be gotten in Alaska. For lunch, we had to grab a fry bread taco.
After dancing and drum performances from Woosh.ji.een and All Nations Children we talked with Jacob Almeida who works at Goldbelt as an intern and Michaela Demmert who works in the Tlingit and Haida President's office as an intern, who organized the market.
Almeida said that the weather did work against them in a way, but many people stopped by to check to shop and there were several vendors setup.
"It's been great, we had fifteen vendor tents and we had about thirteen vendors show up. Each one I talked to made some sales. The weather was obviously a huge factor, when it's good they're all here, when it's bad it's pretty dismal, but that's just the nature of the beast here in Juneau."
Almeida also talked about the inherent value to put on markets like this.
"This is a great awareness event. In the tourist season, locals tend to stay away from downtown. The tourists are from all over the world, when they want to see Alaska Native culture, we need to make sure that's authentic. Having Goldbelt and Tlingit and Haida come together and bring people that everyone knows selling their Native jewelry, medicine, the Indian tacos, having all of that together and getting awareness for people coming off the ships for about six hours, they need to see that."
Demmert told us that the market was also created to help support Native businesses and crafts.
"We altogether just wanted to support our Alaska Native artists and craftsman to help further their individual businesses and crafts."
Almeida and Demmert say that they hope to provide more Native markets throughout the summer and they'll be announcing those days soon.
"We're going to be doing this throughout the summer and in the future. This wasn't a one time thing; this will be occurring throughout the summer in the tourist season, so we encourage everyone to get the word out.
"10am - 4pm on Saturdays and we'll announce when those Saturdays are; it will be consistent. Please come! Support your local vendors and see some great performances in your Native culture."
Demmert also wanted to ask that any Native artists looking for a spot to sell their work to get in touch with them for the next market.
"For other local artists, please feel free to contact us if you want to be a part of our future markets, sell your crafts and goods. We are all for supporting you, so let us know."