First Lady Donna Walker discussed her Volunteer Award recipients while a guest on Capital Chat Tuesday.
Posted Wednesday, May 4th, 2016 7:03am by Lori James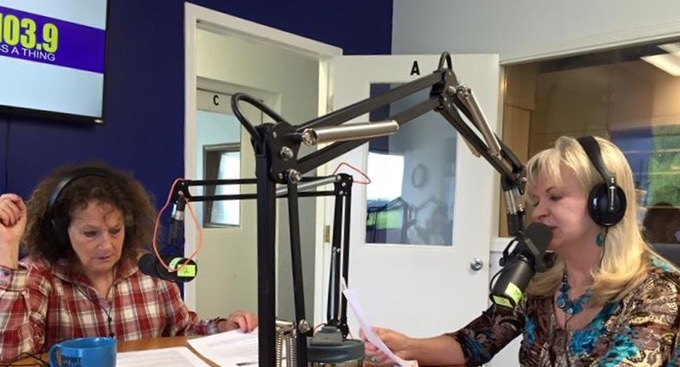 First Lady Donna Walker discussed her Volunteer Award recipients while a guest on Capital Chat Tuesday. "We had a record number of nominations, over 100, which made the task of our board very challenging.", said Walker. "Just an incredibly phenomenal group of nominations this year, so these 13 were shining stars."

There was one recipient from from Juneau. "There were six nominations for Michele and the work that she has done in this community that has gained state wide attention as well with the heroine epidemic is just phenomenal. We also had a couple of other outstanding nominees from this area, Beatrice Long who's been involved with the community for many years. She had five nominations and also Samuel Trivet and another gentleman, Bruce Bowler, who's been involved with search and rescue so you can see the decisions were very, very tough. For those who weren't selected this year please know we hope the nominators will get up there and do it again for us. We're very much looking forward to having everyone in town and many thanks to the Juneau community and a lot of our businesses who have stepped up and helped with our efforts here. Thank you so much for bringing time and attention to these important contributors to our community."

Winners will be honored during a luncheon at the Governor's House on Wednesday.

The youngest receipient is also from Southeast Alaska, "We had three from Ketchikan including our very youngest one, Tessa Salazar. When she was seven she told her mom she wanted to help raise money for the local homeless shelter so she started a little business called Kid's Cookies For A Cause and her grandparents, parents, and friends got involved. She's raised over $40,000 in her community and each year picks a different cause. This year she is getting a therapy dog for a little five year old girl there that definitely needs that."

The other Ketchikan recipients are Linda Gilson, the President of the First City Council on Cancer, and Amelia McAlpin who's demonstrated many years of a strong passion for caring for others, especially youth, the homeless, and those with serious medical issues.

First Lady Bella Hammond began the annual recognition in 1975.

First Lady Donna Walker said in her media release on Monday, "Highlighting the commitment and character of these fine Alaskans shows our appreciation for their sacrifices and encourages others to help build up their communities through giving of their time and talents."

The 2016 Volunteer of the Year Recipients:
Linda Gilson
Linda Gilson of Ketchikan is the President of the First City Council on Cancer, a non-profit organization dedicated to assisting cancer patients with expenses not covered by insurance. Linda has served the organization in various capacities since its inception more than 20 years ago. As the public face of the First City Council on Cancer, she has helped to raise more than $1.5 million to support Southeast residents diagnosed with cancer. Linda also often provides a comforting presence as patients first face their diagnoses.
David Musgrave and Mark Stigar
David Musgrave and Mark Stigar have played an integral role in bringing cross-country skiing to the Mat-Su region through their work with the Mat-Su Junior Nordics Program. Since 2010, they have helped the Junior Nordics program flourish through the development of the Government Peak Trail System in Hatcher Pass. They have also helped secure grants from the Mat-Su Health Foundation to provide rental ski equipment to families. David and Mark have given countless hours to promote healthy lifestyles and encourage more Mat-Su families to enjoy the Alaska outdoors.
Trevor Storrs
Trevor Storrs of Anchorage has been described as the conductor, leader, motivator and "cheerleader-in-chief" of efforts to eliminate homelessness in Anchorage and throughout Alaska. Since its inception in 2006, Trevor has served as chair or co-chair of the Anchorage Coalition to End Homelessness, a regional planning body that coordinates housing and services for homeless families and individuals. Through the Coalition, Trevor has worked to help more than 9,000 Alaskans gain access to housing, health care, employment, food and many other essential resources at the annual Anchorage Project Homeless Connect event. With enthusiasm and compassion, Trevor has made a profound difference in the lives of thousands of Alaskans during their greatest time of need.
Jamie Marunde
Jamie Marunde of Northway has served as a role model for young people in her village by living a healthy lifestyle, being committed to her culture and language, and pursuing a higher education. Jamie is the first in her village to receive multiple college degrees and a master's degree. At 29, she is the youngest elected member of her village corporation, where she serves as board chair. For the past several years, Jamie has been actively involved in traditional land use issues. She is developing land use plans to promote better communication between urban and rural Alaskans. She is also working with her mother to build and distribute Upper Tanana Athabascan language books to schools and communities in her region. Through the commitment of her time and resources, Jamie has given the community of Northway and her region a voice on critical issues facing the state.
Michele Morgan
Michele Stuart Morgan of Juneau is the founder of the grassroots organization "Juneau – Stop Heroin, Start Talking." Through her brave and relentless efforts, Michele has helped organize community members and policy makers to identify key strategies to address heroin addiction, prevention, and treatment. She was also a strong advocate for Senate Bill 23, which was signed into law last month and allows doctors and trained bystanders to prescribe and administer naloxone, a drug intended to counteract the negative effects of opioid overdose. Through her compassion and concern for her community, Michele continues to speak out for those struggling with opiate addiction in Alaska.
Denny Mehner
Denny Mehner of Fairbanks was nominated for his unwavering dedication to his community. Since arriving in Alaska in 1966, Denny has worked on numerous projects that benefit others, including cutting wood for residents to heat their homes, delivering groceries to elderly neighbors and a daycare center, and providing transportation to several disabled residents. Denny has helped raise money for the American Diabetes Foundation Tour de Cure and for 20 years has volunteered with Fairbanks North Star Borough as an election judge. He was instrumental in re-establishing the Fox Lions Club, where he has served in a number of leadership positions. Recently Denny helped secure funding for a community park in Fox. He has been overseeing the design and construction, and has taken on a large share of the physical work.
Tessa Salazar
Tessa Salazar is an extraordinary 12-year-old philanthropist with a big heart for her neighbors and the Ketchikan community. When she was 7 years old, Tessa told her mother she wanted to raise money for the local homeless shelter. From this, Kids' Cookies for a Cause was born. Tessa, her mother, grandparents and friends set out to bake their favorite holiday treats to sell at the mall. That first year, they raised more than $1,000 for the shelter. Due to Tessa's hard work, determination, and charitable spirit, the program has grown significantly and is well-known throughout the community. In the years since, Kids' Cookies for a Cause has raised almost $40,000 and donated to five different causes in and around Ketchikan. Tessa also serves as president of her middle school's Rotary group and regularly volunteers with the elderly at the Ketchikan Pioneer Home.
Kathy Lopeman
Kathy Lopeman of Ninilchik worked for many years as a nurse and helped start the oncology department at the Central Peninsula Hospital. Through her work caring for patients with cancer, she recognized the financial toll it took on them and their loved ones. She wanted to help. Twelve years ago, Kathy helped start "W.O.W – Way Out Women Snow Machine Event," which provides financial support to patients undergoing treatment. Thanks to Kathy's dedication to cancer care, more than $766,000 has been raised to benefit Kenai-area patients between the ages of 8 and 88.
Sheila Barrett
Sheila Barrett of Anchorage has a passion for helping others, especially children, the elderly, and those with special needs. Through her lifetime of service, Sheila has made Alaska a better place due to her tireless, enthusiastic, and meaningful efforts. Sheila helped start the "Kids Don't Float" program. She has also devoted countless hours to working with post offices to collect undeliverable books and has delivered over a thousand books a year to organizations that serve children. Sheila also developed several programs to help young readers build confidence by reading out loud to therapy dogs. Sheila can be found every Friday with her own therapy dog, Swivel Shot, welcoming visitors to the Anchorage Convention and Visitor Center log cabin. She also takes Swivel Shot to work with students at a local elementary school, the Anchorage Pioneer Home, the Chris Kyle Patriots Hospital and the North Star Residence program.
Mark Ahosoak, Jr.
Mark Ahosoak of Barrow was nominated in part for his charitable spirit and his strong commitment to his community. Mark serves as a volunteer funeral director, minister, and church personnel member. In addition to taking care of burial arrangement for grieving families (regardless of severe weather), he follows up with them after the burial to ensure they receive the support they need throughout the grieving process. Mark also demonstrates his genuine concern for others by serving as a longtime volunteer with the North Slope Borough Fire Department.
Amelia McAlpin
Amelia McAlpin is a 79-year-old Ketchikan resident with a strong passion for caring for others, especially youth, the homeless, and those with serious medical issues. In her lifetime of service to others, she has been a dedicated nurse, a foster parent, a caregiver, a hospice volunteer, and a dedicated Salvation Army soldier. She founded the Narcotics Anonymous Parents Group in Ketchikan, and spends time volunteering at the homeless shelter, the Ketchikan Correctional Center, and the Holy Name Catholic Church. Through her strong commitment to her community, Amelia has always been a steady and kind presence with a big heart for others.
Nicholes Hanson
Nicholes Hanson of Unalakleet is dedicated to setting a good example and getting involved with his community's youth. He builds a better community by working as a teacher's aide, coaching youth sports in Unalakleet, working with a suicide prevention program, and traveling to other rural communities as a motivational speaker. His efforts to improve the health and well-being of youth also led Nick to organize a 5K fun run to encourage people to keep active and physically fit no matter their age. His compassion serves as an example for all, young and old.