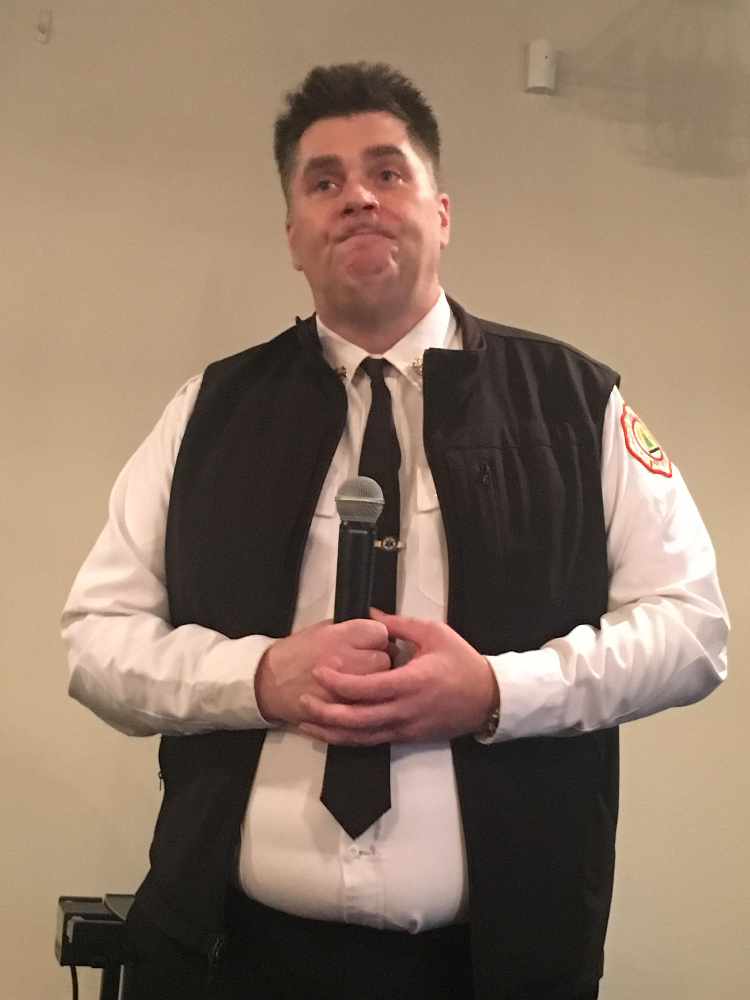 Fire Chief Rich Etheridge speaks at the Moose Lodge
Juneau, Alaska (KINY) - Marine passenger fees, arson investigations and future stations in Lemon Creek and the Mendenhall Valley were among the topics Chief Rich Etheridge spoke about.
Etheridge spoke at the weekly luncheon of the Greater Juneau Chamber of Commerce.
He explained the nuts and bolts of the department that today includes 42 full time firemen and paramedics, 10 employees in administration, and 55 volunteers.
The department handles over 5,000 calls per year with 76 percent of those medical calls. "We are more a medical department than a fire department."
Still, the department still handles 24 structure fires each year and about 100 total fires. They take on about 3,700 EMS calls and 224 alarms. 20 percent of the calls happen after midnight.
"Its rare that a firemen gets to sleep through the night anymore," he added.
Etheridge is a product of Juneau. He started in the fire service as a volunteer at the Glacier Station in 1992. He served as a volunteer for six years. He noted volunteers are still important. They are used in a variety of ways, and not just menial tasks. Many go on to become professional firemen.
He went on to work as an Alaska State Trooper and called that experience invaluable. He said firemen and police have a shared brotherhood and work well together.
The department has specialty units like the only hazardous materials team in southeast Alaska. They also have rope rescue and water rescue teams. Many of the rescues include ice rescues. Ice caves on Glacier trail produced several rescues over the years. Hikers still keep firemen busy with broken ankles, cardiac arrests, and skull fractures.
Etheridge said he is very proud that his department has the nation's top rate of survival for cardiac arrests, 60-percent. A big reason is specialty training, the best equipment, and quick response times.
Etheridge said they are studying ways to improve response times with new stations in Lemon Creek and in the Mendenhall Valley. He noted the response times to Lemon Creek are the longest in the populated part of the borough.
The department also has a seasonal ambulance that last year transported 450 cruise ship passengers to the hospital. They also have a unit that is stationed at the Juneau International Airport.
The recent court ruling on marine passenger fees doesn't worry Etheridge. He said he has still budgeted for the seasonal ambulance and that it is business as usual as far as using funds for the ambulance. They used $232,000 from marine passenger fees to fund the ambulance last year.
More good financial news comes from medicaid. New programs have allowed the CBJ to capture about $800,000 in additional funds.
In the future he plans to develop a fleet replacement plan and also modify the burn pit at the training center. They are using propane fuel to lower the amount of smoke in the area.
He said his employees also have faced more confrontational, angry and violent patients. He said they work well with law enforcement and try to bring extra help to discourage patients from being violent.