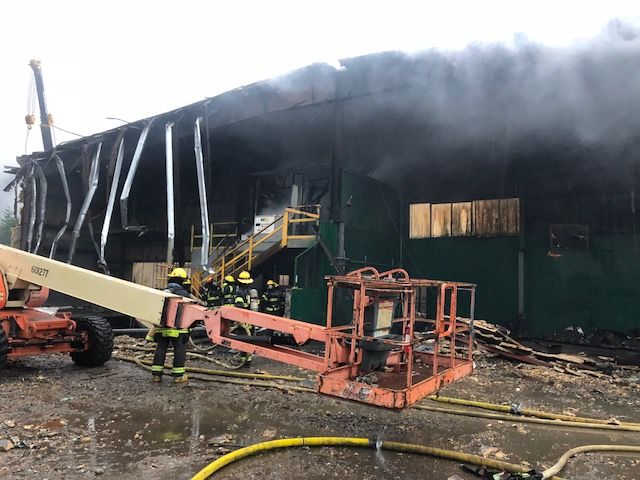 Firefighters battling a blaze on Tonsgard Ct. Photos courtesy of CCF&R.
Juneau, AK (KINY) Firefighters arrived to find the large metal structure covered in flames on Thursday morning.
The building was in the middle of demolition.
A worker from Waste Management noticed the fire and tried to put it out with an extinguisher, but was outmatched and had to call emergency personnel.
Capital City Fire Rescue was able to clear the scene a couple hours later.
Fire Marshal Dan Jager told us over the phone that the cause of the blaze likely stemmed from the demolition being done.
"There was an office control room inside of the structure, which is where all the fire was at. We believe that it was caused by the hot slag that fell from metal-cutting torches used over the last couple days. That slag probably dropped down into a lower level of the building where there were some combustible materials."
"This didn't happen immediately, those slags probably just smoldered until the combustibles could be consumed and then it started to burn the wooden walls of the office space."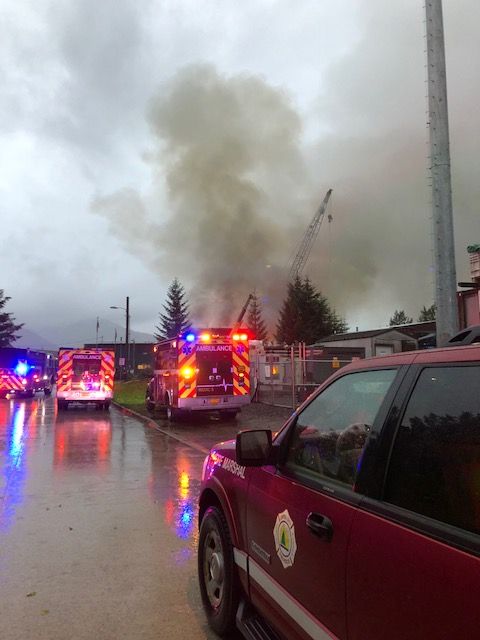 No one was hurt during the fire and all property damage was being demolished anyway.
During this time though, Jager tells us there was a plane having trouble with landing gear as it came into the Juneau airport.
"While that was all going on, we did have an aircraft alert. We were trying to get enough personnel to the fire scene and then get them back in service to respond to the airport."
No one was reported to be hurt during the plane issue.
Jager reflected on the event to be another reminder of how needy they are of more resources and staff.
"It's nothing new for our department, but it's another continuation of when something significant happens, we usually have other calls coming in. This was our typical juggling act."