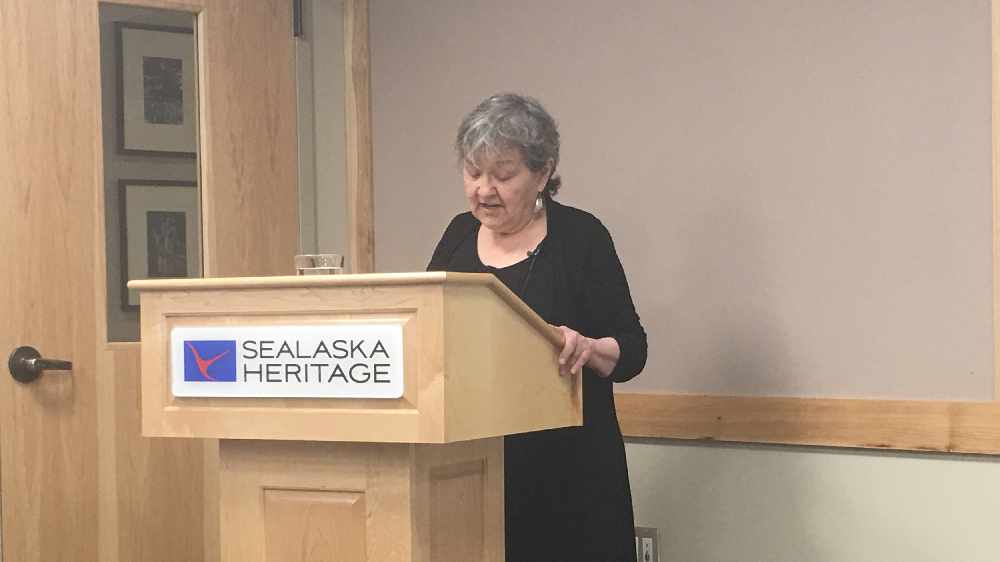 Ernestine Hayes speaking at SHI during Native American Heritage Month.
Juneau, AK (KINY) - Alaska Writer Laureate and UAS Professor of English and Creative Writing Ernestine Saankaláxt Hayes spoke at SHI on the power of Native names, their ties to the history of the land, and how some places were renamed and could be changed in the future.
Place names are incredibly important in Southeast Alaskan Native culture and the places can often take on characteristics like a character would in other types of storytelling.
One of the areas being looked at for a name change is the Willoughby District in Juneau. There has yet to be a particular name for people to advocate, but there are suggestions of renaming it Auke Village District. Hayes spoke to us after her talk, where she talked about how names are important.
"Names change with the character of the place. The place is alive and contains ever-changing history just like any other living thing. I think that Willoughby was suitable for the era, but we are in a new era and I think a new-old name is in line."
The name of the Willoughby District is not the most offensive name out there to Native Culture in Alaska, but Hayes told us that it could be the next place to receive a new name locally. The area around the Walter Soboleff Building was recently named Heritage Square, following the installation of new totem poles.
"I think that all the names of the mountains, of the bays, of the rivers, of the towns, of the villages, of the people, are all as urgent, but I think that the Willoughby District is becoming a focus of actions and activities and naming and so on, so for that reason and that reason only it would probably be the next."
In order to voice that this change is wanted, Hayes told us that the best thing to do is to become more involved with public process and speak at meetings. The Blueprint Downtown Project, the Historical Preservation Plan, and the Wayfinding Project were also suggested as ways to advocate for more Native names.
"The best thing to do is to communicate with the Juneau Assembly and the Juneau political leaders," said Hayes.
The lecture was recorded and will likely be available later on.
More information about the various events being held for Native American Heritage Month can be found at the SHI website.